How Mark Walhberg's Six Million Dollar Man Will Differ From The TV Show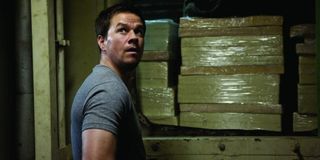 A cinematic adaptation of the Six Million Dollar Man has been in the works for two decades now. Kevin Smith tried his hand at a script, Bob Weinstein waxed lyrical about the possibilities of a franchise, and Jim Carrey and Todd Phillips thought about making a comedy version. None of these ever came to fruition, but TWC Dimension announced details about Mark Wahlberg and Peter Berg's adaptation, and in the process confirmed how it will differ from the television version.
A press release from the studio announcing that producers Mark Whalberg, Stephen Levinson, and Bob Weinstein hired Oscar-nominated filmmaker Damian Szifron to write the blockbuster, teased:
Can you see where Peter Berg and Mark Wahlberg's Six Billion Dollar Man differs from ABC's sci-fi action-adventure series and Martin Caidin's book. Cyborg? Well, Steve Austin isn't a test pilot. Instead he has now been promoted to military officer. Which is a good thing, because while we can all probably imagine Mark Wahlberg as a military officer, it's impossible to picture him as a test pilot. That would have been just stupid. Why? Because there was no way he could ever truly live up to the efforts of this man.
Argentinian filmmaker Damian Szifron is a surprising choice to write The Six Billion Dollar Man, however he is also an exciting one. Having originally created Los Simuladores, as well as writing and directing the follow-up series Hermanos y Detective, Szifron has recently been lauded for his work on Wild Tales, which he wrote and directed. That film was also awarded the Palme d'Or at the 2014 Cannes Film Festival, and nominated for the Best Foreign Language Film at the 87th Academy Awards.
As you can imagine, Szifron was rather ecstatic to have been given the opportunity, and he waxed lyrical about the potential the film has, saying:
Szifron should have The Six Billion Dollar Man written by the end of the year, and we can expect to see it either towards the end of 2016 or the beginning of 2017.
Your Daily Blend of Entertainment News