How Michael Fassbender Looks Dressed As Steve Jobs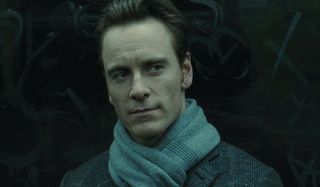 There have been a few set photos floating around of Michael Fassbender playing Apple CEO Steve Jobs in director Danny Boyle's upcoming biopic - simply titled Steve Jobs - but now our best look at the star has weirdly come in the form of a fake advertisement. We have our first real look at the Shame actor as the tech icon in this photo of a reproduction of an old ad. Check it out below.
Posted by Instagram user seannung, this is an imitation of a vintage advertisement for NeXT computers, which is the company that Jobs founded in 1985 after being ousted from Apple, and before returning to the company he founded in the late 1990s. You see Fassbender's rendition of Jobs leaning on his creation, as well as a quote about the future of the personal computer - which, in retrospect, seems very prophetic indeed, as he helped to make these devices so much more than we ever previously imagined.
Fassbender landed the role of Jobs after both Leonardo DiCaprio and Christian Bale walked away from the production, with the likes of Ben Affleck, Matt Damon, and Bradley Cooper also being mentioned in possible connection the part at various stages as well. While I'm sure Fassbender will be good in the role - he's a fantastic actor, after all - it's hard to look at this and think anything but, "Hey, that's Michael Fassbender leaning on a computer." Going back and looking at pictures, that era's Jobs had longish, relatively shaggy hair - not the manicured, slicked back do in this one sheet.
That's a relatively minor quibble, and contextually and stylistically this approach, using NeXT, makes a great deal of sense. What we know of the script by The Social Network scribe Aaron Sorkin, adapting the biography by Walter Isaacson, the film is structured around three key moments in Jobs' professional life. Instead of a traditional birth-to-death biopic, it begins with the launch of the Mac in 1984, follows with the debut of NeXT, and then wraps up with the iPod in 2001.
Those are three fairly substantial career-and-life-defining moments to be sure, and you can see Jobs' penchant for random capitalization on display. While NeXT is the least known of these, and the least commercially successful of the three products, it had a lasting impact and legacy, especially its revolutionary interface. Apple actually purchased NeXT in 1996, which is how Jobs was able to once again get his foot in the door at his old company, and we all know what happened after that.
Steve Jobs also stars Kate Winslet, Seth Rogen, Sarah Snook, Katherine Waterston, and Jeff Daniels, and is scheduled to open October 9th of this year.
Your Daily Blend of Entertainment News
Thank you for signing up to CinemaBlend. You will receive a verification email shortly.
There was a problem. Please refresh the page and try again.