How The Tupac Biopic Managed To Trick A Bunch Of Las Vegas Reporters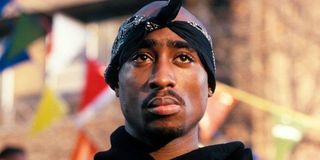 The death and murder of Tupac Shakur on September 7, 1996, was obviously going to play a major part in his impending biopic. As it turns out, the production crew for All Eyez On Me returned to this exact location on the Las Vegas strip to recreate Tupac's death. In fact, they did such a good job filming this traumatic moment that local reporters actually rushed to the scene during filming as they mistook the sound of blanks for real gunshots.
That's according to TMZ, who were on hand to collect an array of images of the shoot, which show actors Demetrius Shipp Jr. and Dominic L. Santana, who are playing Tupac and Suge Knight, respectively, covered in blood and in character. Demetrius was even captured in the passengers seat of the car, which is where Tupac was sat as Suge Knight drove when the fatal moment occurred.
TMZ didn't provide too many more details about the alleged reporters and press that quickly made their way to the production. But the images of the actors prove that they look the spitting image of their counterparts, and you can see why the press were probably instantly struck with deja vu upon arriving at the scene of the fake crime.
All Eyez On Me has been in development over at Morgan Creek Productions since 2011. Over the last five years it has had many different iterations, with the likes of Antoine Fuqua, Carl Franlkin, and John Singleton working on the project. But in November 2015, after a legal kerfuffle, it was reported that music video director Benny Boom would instead oversee All Eyez On Me.
As well as Demetrius Shipp Jr. and Dominic L. Santana, the likes of Lauren Cohan (The Walking Dead), Danai Gurira (The Walking Dead), Jamie Hector (The Wire), and Jamal Woolard, who will be reprising his role as The Notorious B.I.G. from the 2009 biopic of the musician, are part of the cast. The film is also going to feature incarnations of Puff Daddy, Jada Pinkett, Faith Evans, Kidada Jones, Ray Luv, Snoop Dogg, and Dr. Dre, in a similar style to Straight Outta Compton.
The success of Straight Outta Compton back in August 2015 has increased the excitement and expectation ahead of All Eyez On Me. Made for $28 million, it went on to gross $201.6 million, while it was also met with positive reviews from critics going on to score 88% on Rotten Tomatoes. In fact, it was so popular that when it only received one Academy Award nomination for Best Original Screenplay, there was a huge outcry because moviegoers believed that it deserved more.
However, despite being overlooked by the Academy Of Motion Pictures Arts And Sciences, Straight Outta Compton's box office triumph proves that there is a huge appetite for biopic films of this ilk. And we'll get to see if All Eyez On Me can build upon it when it's finally released on November 11, 2016.
Your Daily Blend of Entertainment News