Humpday's Joshua Leonard Is Telling A Lie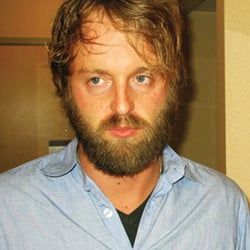 In this year's Humpday Joshua Leonard played the kind of character who reminds office drones of what they're missing, a 30-year-old vagabond living a life of travel and adventure and sex, rather than the monotonous but maybe more content life his old friend (played by Mark Duplass) has built for himself.
But it seems Leonard will be slipping into the other role in The Lie, an indie he will direct based on T.C. Boyle's short story that ran in The New Yorker last year (you can read the full story online here). According to Variety Leonard adapted the story with Jess Weixler and Mark Webber, both of whom will star in the film as well. Jane Adams, Kelli Garner, P.J. Ransone, Gerry Bednob and Kirk Baltz will round out the cast as well.
The original story is pretty slim on plot and characters, and presumably Leonard and company will have fleshed things out a good bit, but given the involvement of everyone in mumblecore movies like Humpday or Alexander the Last, I'm betting on some laconic, low-key scenes and an overall sense of melancholy that belies the story's high-concept premise (man lies about his baby dying so he doesn't have to go to work). It may not sound like it, but I'm excited.
Your Daily Blend of Entertainment News
Staff Writer at CinemaBlend