The Hunger Games: Mockingjay Poster Is Bad News For President Snow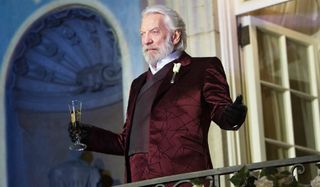 Lionsgate released a new Hunger Games: Mockingjay - Part 2 poster, and it's time to let those scumbag, imperialist Capitol windbags have what they deserve. By the look of things, this doesn't mean the best of times for goold ole President Snow. Check out the new one-sheet below.
Snow, played by Donald Sutherland, has been terroizing Panem and Katniss Everdeen (Jennifer Lawrence) for years. And now the story that began with the Girl on Fire volunterring to replace her younger sister in the gladiatorial Hunger Games will end with end with...bad things for the man who's responsible for it all.
When last we saw Katniss and the Rebels, they had successfully extracted their captives from the clutches of the Capitol, but with consequences. Johanna Mason (Jena Malone) and Finnick's love Annie Cresta (Stef Dawson) survived in relatively decent shape, but Peeta (Josh Hutcherson) had physically withered away and was brainwashed to hate Katniss. Those who've read the books know what's left: a final stand against the Capitol.
For those who haven't read the books and want to go into theaters spoiler free, turn back now.
The final half of Mockingjay sees Katniss lead an armed team of rebels into the Capitol to capture Snow. The city itself acts like another arena of the Games, as they must avoid an onslaught of booby traps, armed soldiers, and vicious creatures. Spoiler alert, not all of them make it out alive, and, as the Hunger Games: Mockingjay poster foreshadows, Snow isn't one of them. Though, it'll be interesting to see how strictly director Francis Lawrence and his team of writers stick to the source material. Part 1 strayed from the books in that it showed us the rebels extracting their allies from the Capitol, and gave Elizabeth Banks' Effie Trinket a substantially larger role. According to Lawrence (the director, not the actress), Part 1 was about how media and propoganda warp a society, while Part 2 is "a real war movie." He promises that we'll quickly break from the confines of District 13 and head into the other realms, including the Capitol.
In addition to reprisals from Jennifer Lawrence, Hutcherson, Liam Hemsworth, Julianne Moore, Banks, Jeffrey Wright, and the rest of their crew, the second part of Mockingjay features a couple of franchise newcomers, such as Game of Thrones star Gwendoline Christie as Commander Lyme and True Blood's Michele Forbes as Lt. Jackson.
Lawrence and company filmed both parts of Mockingjay essentially back-to-back with a press tour for the first shoved in between. Though we haven't seen too much of the second part, the release of this poster means that a lot more images, photos, and, most exciting, trailers are not far off.
The Hunger Games: Mockingjay - Part 2 hits theaters on November 20.
Your Daily Blend of Entertainment News