Hurt Little Boy Leaves Hospital In Full Spider-Man Cast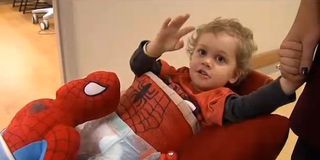 Spider-Man may not be having the best time of it on film right now, but the Web-Slinger remains an important pop culture figure, especially with children. As with many superheroes, he often serves as a larger-than-life character that provides comfort to those of a younger age. Such is the case with three-year old Sawyer Singleton, whose recent injury has him dressing up like Spider-Man in a unique way to help with the healing.
Sawyer's mother Danielle told KATV News that he was taken to the Arkansas Children's Hospital after he had a bad fall on one of his toys. The result was a broken leg, which required a full body cast from ankle to chest that he'll have to wear approximately six to eight weeks. The prospect of being encased in something like that would be daunting for any age, but for a three-year old, it's especially challenging. Fortunately, one of the nurses remembered that Sawyer was interested in having a Spider-Man cast, and the hospital staff sprung into action. Dr. Brien Rabenhorst, the pediatric orthopedic surgeon on Sawyer's case, enlisted the help of X-Ray technician Ted Sharp to decorate Sawyer's cast. Despite Sharp's insistence that he's not an artist, the end result was a good translation of Spider-Man's costume using only a sharpie for the web pattern, which only took him five minutes to draw.
The decorated cast may not do anything to speed up the healing process, but it has been a success with helping Sawyer through this ordeal. As an added bonus, the staff also made a cast for Sawyer's Spider-Man doll to wear as well. Sawyer still has several weeks before the leg is fully healed, but according to Rabenhorst, the cast has made the toddler feel like he's a superhero himself. Sawyer's superhero cast isn't the only way Marvel's resident Wall-Crawler has cheered up a sick child. Earlier this year, a father dressed up as Spider-Man for his terminally ill son's fifth birthday. Superheroes may be primarily seen as a form of entertainment, but for children, they can often serve as an important way to make it through challenging times, and once again Spider-Man has served this purpose well.
Rabenhorst mentioned that he would keep Sharp around in case any other casts need decorating, so if you live in Little Rock, Arkansas and have a child who is a big superhero fan, if they ever need to have a cast placed on them, make sure to request Sharp to draw the appropriate superhero symbol. You can check out the video above for the whole story.
Connoisseur of Marvel, DC, Star Wars, John Wick, MonsterVerse and Doctor Who lore. He's aware he looks like Harry Potter and Clark Kent.