Watch This Dad Dress As Spider-Man To Surprise His Terminally Ill Son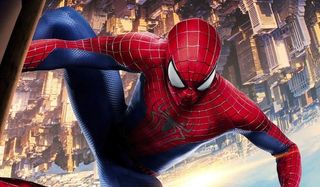 There are many great dads in the world, but few can say that they became a superhero to surprise their child. That's exactly what United Kingdom citizen Mike Wilson did for his son Jayden, who is suffering from a Grade Four Stem brain tumor. Donning the costume of Jayden's favorite superhero, Spider-Man, Mike set up a GoPro camera outside their house to catch Jayden's reaction as Marvel's esteemed Wall-Crawler greeted him with a happy fifth birthday. Check it out!
At seen in the video, there's no one outside at first, but as Jayden walks slightly forward, Spider-Man jumps from the roof and surprises him and his family. It was an entrance reminiscent of how the character often arrives at the scene of a crime. Putting on his best American accent, Wilson asks Jayden hold old he is, asks him for a hug and carries him back into the house for the birthday party. Jayden's mom also mentions that Jayden's father is "at the shop," but saw the Web-Slinger on TV. Superheroes just wouldn't be the same without these clever excuses to protect secret identities.
Mike Wilson told The Independent that he's also been a fan of Spidey for years, and that he hired two costume designers to create the Spider-Man suit - which took about three weeks to assemble. Unfortunately, because of the severity of the tumor, Jayden may only have one year left to live, but that isn't stopping his family from doing their best to keep his hopes up, and getting a visit from one of the most famous superheroes of all time certainly accomplishes that. The video has received over 1,000,000 views since it was uploaded on Sunday, and Wilson has earned the nickname "Spider-Dad" across social media. Wilson hopes that Jayden's story will increase awareness of the condition and "spread positive energy." There's also been a GoFundMe page set up to help pay for Jayden's medical costs.
Superheroes are more than just fictional characters who fight evildoers. They inspire others and give hope. Mike Wilson dressing up as the hero who adorns his son's bedroom walls was a touching and heartwarming way of giving Jayden a special fifth birthday, as well as celebrating each day he has left. Most kids dream of meeting a superhero, but few actually get one to visit them on their birthday. It's also great that Wilson put time and effort into the performance, getting a custom-made suit rather than a cheap one from a costume shop and talking to his son in an American accent. He may only be five, but Jayden probably would have noticed that Spidey sounds like his dad. Then again, some of Peter Parker's family and friends haven't figured out he's Spider-Man yet, so maybe that mask is an effective enough at disguising the hero's voice.
Connoisseur of Marvel, DC, Star Wars, John Wick, MonsterVerse and Doctor Who lore. He's aware he looks like Harry Potter and Clark Kent.
Your Daily Blend of Entertainment News
Thank you for signing up to CinemaBlend. You will receive a verification email shortly.
There was a problem. Please refresh the page and try again.