Interview: Sam Rockwell Researches Prison And Boston For His Role In Conviction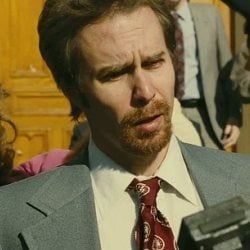 At this point, how many superlatives are even left to say about Sam Rockwell? The guy has turned in so many memorable performances in the last decade or so, from scene-stealing supporting performances in The Green Mile and Galaxy Quest to lead roles in acclaimed indies like Moon and Snow Angels to, in the last few years, the big time, showing up as the villain in Iron Man 2 or in the ensemble of the Oscar-nominated Frost/Nixon. At this point there's nothing that can be considered a stretch or a change of pace for Rockwell, given how much he's done, but there's still something remarkable about his work in Conviction playing Kenny Waters, a man falsely convicted of murder and eventually exonerated by his sister, who put herself through law school with the sole purpose of freeing him.
I talked to Rockwell yesterday in Manhattan, having passed the set for his next movie The Sitter on my way over from Brooklyn (for what Rockwell had to say about that one, click here. Check out the rest of our conversation about Conviction, prison research and the real Kenneth Waters below. The movie opens in theaters this Friday.
Is it complicated for you that Kenny died after the events of this movie? [He died just six months after being released from prison in a freak accident] That's not included in the film, and it must be difficult for you to talk to people about the film who don't realize that happened.
Yeah, it's tough. it's a bummer, obviously. He was just an unlucky guy. It's terrible what happened. But at the same time, he died a free man. The last six months of his life were awesome. He was on Oprah, he had movie deals coming in. He shaved his head right before he got out, and Betty Anne said, "Why did you shave your head?" He said, "I Want people to remember this mug." He loved the attention. The movie's not about that, it's about that relationship [between Betty Anne and Kenny].
Did you have footage or tapes of him to work off, or stories from the family?
I have footage of him, I had tape of him talking to his lawyer about the case back in 81. Betty Anne and all of her relatives told lots of stories. Then there was all the research for prison that I did on my own, and that was extensive stuff that I did on my own, as quickly as I could.
How did you work on the Boston accent?
I had to learn it very quickly. It's a very tricky accent. I was intimidated, but once I got the cadence of it, it was actually really fun. It's all over the place.
What kind of research did you do into prison, and what did you get out of that?
The inside of the prison, emotionally and the visiting room, it was very important that we feel his experience. Without that, it wouldn't be a movie. And Hilary, her concern, and the characters are always trying to take care of each other. They're tough people. Very openhearted people. What I think is really new for Hilary, there's something very soft and maternal, what she does in the part. It's not just this tough, hey, tough cookie thing. She's got a steel spine. She's an extraordinary person.
The one thing that's striking is that when you're inside, the cells are very small, very very small. The other thing is you're completely open. Everybody can see you, so you have no privacy. And it's also very loud. So you do everything in front of people. It's literally like being a caged animal, especially in the older prisons.
Tony said he auditioned a lot of people for the role who didn't quite get Kenny, didn't get that he had a lightness and a darkness to him. But he said you got it. Where did you get that from?
I think it came out of the prison research and the conversations I've had with people who have been in there. In the makeup chair I'd read In The Belly of the Beast [by Norman Mailer] a lot, and that would get me into it. It just stimulates your imagination, so when you go in those scenes you take that with you. There's movies in this genre, this kind of Dead Man Walking and The Hurricane, all these great performances. You say, what do I have to offer to this canon of worth? There's some pretty heavy duty players.
You've worked with a lot of actors turned directors, now including Tony Goldwyn. How does he compare to the others [including Jon Favreau, George Clooney, Clark Gregg and Ron Howard]?
Without being corny, they're all amazing directors. But yeah, Tony is very compassionate, and he's got a very concrete idea of what he wants, but he's also very open to collaboration, and extremely sensitive to your process. He created a very safe bubble for us.
Your Daily Blend of Entertainment News
Staff Writer at CinemaBlend