Iron Man 3 Has Huge Friday Box Office, But Can't Beat The Avengers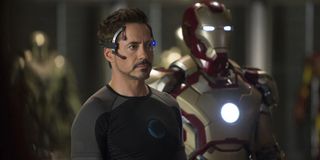 Anyone who was following Iron Man 3's insane grosses overseas could pretty easily predict it would have a big American opening, and the superhero threequel has lived up to most expectations. According to the early numbers at The Hollywood Reporter Iron Man 3 opened to $68.3 million on Friday, putting it on track for the $165-$170 million weekend that many insiders had predicted. It's very close to knocking Harry Potter and the Deathly Hallows Part 2 off its perch as the second-biggest opening weekend ever, but it won't be able to come near The Avengers's record-breaking tally.
It was hard to expect Iron Man 3 to be able to best The Avengers-- how can one superhero compete against a team-up of 7?-- but it's actually pulling it off overseas. THR says that it continues to be ahead of The Avengers when you count the worldwide grosses, which now stand at $456.6 million. The Avengers topped out at $1.5 billion last year, and with audiences responding well to Iron Man 3, it at least stands a chance of getting near that. North American audiences give it an A CinemaScore, which means word of mouth will keep it going even when newer blockbusters take over screens in the coming weeks.
As you've probably read by now, we love Iron Man 3 a lot around here, and we're discussing the film with spoilers, talking about why it's a a perfect Shane Black movie and wondering if we'll ever get an Iron Man 4 throughout the weekend. Come back tomorrow for a full box office report, and let us know in the comments how you've been enjoying your surely packed screenings of Iron Man 3.
Your Daily Blend of Entertainment News
Staff Writer at CinemaBlend
Your Daily Blend of Entertainment News
Thank you for signing up to CinemaBlend. You will receive a verification email shortly.
There was a problem. Please refresh the page and try again.