Discuss Iron Man 3 With Spoilers And Rate It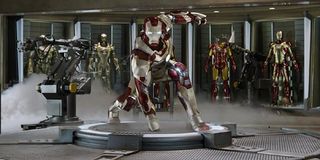 Iron Man 3 finally opened in North American theaters last night, after setting box office records all over the world and churning up fan anticipation with ecstatic reviews. We don't yet know if it's the conclusion of Robert Downey Jr.'s time as Iron Man outside of The Avengers, but Iron Man 3 is a great note to end on if it is, a hugely celebrated movie that's like a victory lap for the character who set off the whole Marvel Cinematic Universe to begin with.
We've been talking a lot about Iron Man 3 around here this week, from trying to predict its box office based on reviews to giving it the To 3D or not to 3D test to pointing out how The Avengers made it better. Now it's your turn. In the comments below you can discuss Iron Man 3 with spoilers, and also rate it in our poll. Talk about all the stuff you can't get into with your friends who haven't seen it yet, debate where The Mandarin ranks among the Marvel villains, decide what your favorite version of the Iron Man suit is-- this is the place to do it.
We'll be back Monday with lots more talk about Iron Man 3.
This poll is no longer available.
Your Daily Blend of Entertainment News
Staff Writer at CinemaBlend
Your Daily Blend of Entertainment News
Thank you for signing up to CinemaBlend. You will receive a verification email shortly.
There was a problem. Please refresh the page and try again.