George Lucas Has A Big Problem With The Academy Awards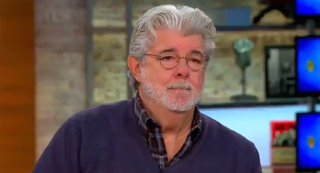 George Lucas isn't someone you want upset at you. He's a very wealthy and very powerful man. That's why we're fearing for the the Academy after hearing news of the filmmaker's latest beef with the organization claiming that the nominations are nothing more than politics.
During his recent appearance on CBS This Morning, there to promote his new animated musical Strange Magic, Lucas found himself in a discussion about this year's Oscar nominations. According to The Hollywood Reporter, in response to Gayle King's question about whether he saw the all-white categories as a snub of qualified black actors, most notably David Oyelowo for his performance in Selma, he decided to offer up his opinions on the matter.
Lucas didn't stop there though. In referring to the members of the Academy, he said this to say as well.
Whether people agree with the Star Wars creator's comments is ultimately up to them, and while many factors may have affected why Oyelowo wasn't nominated, we should acknowledge the fact that Lucas has been in this business for a very long time and likely knows a thing or two about its fellow inhabitants. I, for one, have not yet seen the film but I am familiar with some of his other work including the highly-underrated film The Paperboy, the excellent 2006 film The Last King of Scotland and the fluffy but still highly-entertaining Tom Cruise-led Jack Reacher, and I can say there is no doubt he has a commanding presence. I'm confident that after seeing the film I too will be thinking he was deserving of a nomination.
The issue with the Best Actor category this year is that there are a ton of great performances so it's difficult to say whether or not Oyelowo actually was snubbed, but there is certainly grounds for an argument. I've seen Foxcatcher and Birdman or (The Unexpected Virtue of Ignorance), both of which's leads, Steve Carell and Michael Keaton, absolutely earned their Best Actor noms. I have yet to see American Sniper, The Theory of Everything and The Imitation Game but once again, see the potential for all three actors to receive nominations. For what it's worth, Keaton has this locked up but let's get back on topic.
Lucas worked with Oyelowo on his film Red Tails, ironically a film which he previously said was difficult to fund, do to its all black cast. The director, who spoke highly of the actor's abilities, isn't the only one blasting the Academy for its lack of black representation within this year's nominations. Spike Lee recently added his thoughts on the "Selma snubs," which include not only Oyelowo but also the film's director Ava DuVernay, in a recent conversation with The Daily Beast.
Selma wasn't completely left out of the Oscars as it did pick up noms for Best Picture and Best Song. However, Lucas and Lee are not the only ones voicing strong opinions on the omission in other categories.
Your Daily Blend of Entertainment News