Jack Black Set For School Of Rock 2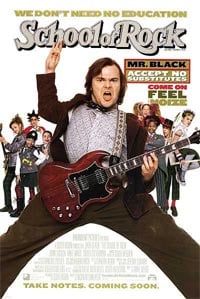 A few weeks ago screenwriter Mike White admitted that he'd just finished and turned in a School of Rock sequel script. Now it looks like the movie is official. Variety says that not only is Paramount Pictures developing a School of Rock 2, but they've already got Jack Black back on board in the movie's lead role.
They're calling it School of Rock 2: America Rocks, which is just about as generic as it gets for a title. Might as well have gone with School of Rock 2: Cleveland Rocks, then they could have used Drew Carey as Jack Black's stunt double. He's not busy, is he?
In the sequel, Black's rock and roll teacher character leads a bunch of summer school students on a cross-country field trip to explore the history of rock. That's right, they've gone where every sequel that didn't need to happen goes: Road movie! They're doing the same thing for Donnie Darko 2.
Look, I understand why Jack Black is doing this. He hasn't gotten good reviews since School of Rock, it was his high point and he's clearly been on a downward slide ever since. He wants those School of Rock years back. But it doesn't need a sequel. It can't have the same kids, since they're now all too old, and it can't have the same magic, since half the fun in the original was that no one knew Black's character was a half-crazed rocker. Now they know, and where's the fun in that? Besides, the original movie was actually about normal kids rocking.. I want to see a battle of the bands, not kids wandering around learning about where Elvis grew up. I love School of Rock. I even have the rocktastic poster you see above hanging on my wall. But I don't want more of it. I know it made money, but that doesn't mean we can't all move on.
Your Daily Blend of Entertainment News