Jaden Smith And Liev Schreiber To Headline Slavery Drama The Good Lord Bird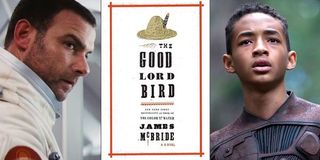 America's antebellum south has been the setting of two recent Academy Award winning films, 2012's Django Unchained and 2013's 12 Years A Slave. Looking to continue the trend of celebrated slavery-centric American drama is The Good Lord Bird, which, as has just been announced, will feature Liev Schreiber and Jaden Smith in lead roles.
The Good Lord Bird is an adaptation of the bestselling historical-fiction novel of the same name, penned by James McBride. Deadline reports Schreiber will take on the portrayal of outspoken (and real life) abolitionist John Brown, while Smith will play Henry "Little Onion" Shackleford, a young slave. The film will focus on the friendship that evolves between the two men, and Shackelford's coming-of-age in a pivotal period of American history. Here's the book's plot synopsis, courtesy of Amazon:
According to Deadline, other real-life inspired roles that have yet to be cast include Frederick Douglass and Harriet Tubman. While its premise might make The Good Lord Bird seem poised to be a drama, the book's tone has been compared to Mark Twain's Adventures of Huckleberry Finn. So anticipate a certain lighthearted satirical edge that may even play well to younger audiences.
If appealing to teens is part of the plan, the casting of Smith makes sense, as he was the star of the hit action-comedy reboot The Karate Kid back in 2010. Notably, he followed that critically praised vehicle with the critically loathed After Earth, a bloated science-fiction that cost $130 million to make and took in only $60 million domestically. Nonetheless, some producers still consider the young Smith a draw, as evidenced by the fact that The Karate Kid 2 is currently in the works. Of course, that might have something to do with the fact that Overbrook Entertainment, founded by Jaden's father and recurring co-star Will Smith, is producing the sequel. This might just be why we tend to think of Jaden as Will Smith's son, instead of as an actor.
If Overbrook is involved in The Good Lord Bird, the production company is keeping quiet about it for now. Regardless, Smith has to start proving himself as an actor outside of his father's shadow if he hopes to forge a reputation of his own. From the sounds of it, the role of Shackleford will be a demanding one. Can the fifteen-year-old child star pull it off? We'll be watching.
No plans have been announced regarding The Good Lord Bird's production start date.
Your Daily Blend of Entertainment News
Staff writer at CinemaBlend.