Jake Gyllenhaal's Drug-Smuggling Drama Just Took A Big Step Forward, Get The Details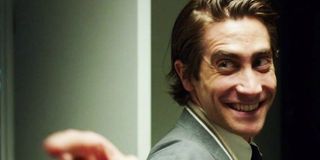 Jake Gyllenhaal's career has never been better. After ending 2014 with a wave of critical acclaim for his portrayal as Lou Bloom in Nightcrawler, he looks set to build upon this recognition in 2015 with a number of interesting projects. And it now turns out that Jake Gyllenhaal is looking even further afield than that with The Man Who Made It Snow.
Jake Gyllenhaal had signed up to star in Antoine Fuqua's Colombian crime-biopic several months back, but now the film has taken a huge leap forward thanks to Harvey Weinstein. According to the Hollywood Reporter, it was announced by the Weinsten Co. at the Berlin Film Festival that they have struck a co-financing deal with IM Global. In fact things are already steamrolling ahead quite nicely as foreign buyers are starting to invest in The Man Who Made It Snow. The film has reportedly progressed to such an extent that a decision has been made to start shooting by the end of this year, which we can assume should lead to it being released in 2016.
Jake Gyllenhaal is taking a hands-on approach with The Man Who Made It Snow, and, just like he was on Nightcrawler, he will work as the film's producer. This comes after he worked as the executive producer on the hugely impressive 2012 police drama, End Of Watch. And from the sound of things, The Man Who Made It Snow could be an awards contender when it's finally released. Gyllenhaal will take the main role of Max Mermelstein, who was allegedly the only American who was in the inner circle of the Colombian drug cartels during the 1980s.
Mermelstein is believed to have smuggled around $12.5 billion of cocaine into the USA. That's despite the fact that his attorney insists he was simply a "nice Jewish guy who got into the wrong industry." Max worked as a drug smuggler for the Medellin Cartel during the late 1970s and early 1980s, but when he was eventually caught he turned into one of the most valuable government witness' in US history. The Man Who Made It Snow is based on Max Mermelstein's autobiography, which Brett Tabor and Michael Kingston have adapted.
Antoine Fuqua was quick to announce that he is thrilled to be working alongside Jake Gyllenhaal once again, having recently directed the actor in the upcoming Southpaw.
Impressive words from Fuqua. Weinstein himself was quick to add to them too, stating that he can't wait to see what the paring of Fuqua and Gyllenhaal brings, before labelling Jake as "an actor who time and time again wows us with his fearlessness."
Jake Gyllenhaal is certainly in the acting form of his life right now. And with the likes of Southpaw, Everest, Demolition and now The Man Who Made It Snow on the horizon, things only look to be getting better for him too.
Your Daily Blend of Entertainment News