Everest Reviews: Is Jake Gyllenhaal's Mountain Thriller An Oscar Contender?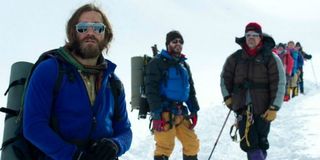 Jake Gyllenhaal was not as widely praised for his boxing drama Southpaw as some predicted, but could Everest be his savior? The film about a group of adventurers fighting to survive the mountain and its dangers recently screened at the Venice Film Festival. The first reviews are in and critics are trying to flush out whether Everest will rise as an early contender of the 2016 Oscar race.
Everest stars Gyllenhaal, Josh Brolin, Jason Clarke, Sam Worthington, Keira Knightley, Robin Wright, and Elizabeth Debicki in a "based on a true story" about a climbing expedition gone wrong on Mt. Everest. Two groups of adventurers converge in an attempt to reach the peak. While the climb up is manageable, the climb back down turns deadly when a snowy storm hits and leaves them all trapped. The film is based on a group of eight climbers who were in this scenario in 1996 and, tragically, they died because of the disaster.
While various reviewers grappled with the film's merits, many agreed it was a thrilling ride nonetheless. From Variety's Justin Chang,
Also to keep in mind, for all of you hoping Gyllenhaal would rise to the occasion and save the day, the actor's role is "surprisingly peripheral and small," according to Peter Bradshaw from The Guardian. He writes,
Based on similar reviews, this seems to be the case with other members of the star-studded cast. According to Eric Kohn of Indiewire, Robin Wright, who plays the on-screen wife of Josh Brolin, "barely lands more than a few minutes of screen time." Though, he writers, "the actors that do find opportunities to capture the sheer anxiety of their situation make them count." He also tweeted,
The overall consensus can be summed up by The Film Stage,
Some cinephiles were hoping last year would be Gyllenhaal's year for an Oscar in light of his performance in Nightcrawler. When he didn't walk home with a statuette (or even a nomination!), we were crossing our fingers for this year. However, with Southpaw failing to stick the landing, coupled with these early Everest reviews, it seems this year isn't for him either. Still, there's still plenty of time before the year's end, and the race is only just beginning.
Everest will hit theaters on September 18.
Your Daily Blend of Entertainment News
Thank you for signing up to CinemaBlend. You will receive a verification email shortly.
There was a problem. Please refresh the page and try again.