Jane Eyre And Sin Nombre Director Cary Fukunaga Next Making A Civil War Heist Movie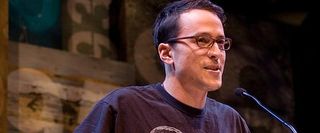 Cary Fukunaga is a remarkably young director who is 2 for 2 on the feature films he's made so far. His 2009 crime drama Sin Nombre was a gritty and moving look at Mexican drug violence, while this year's Jane Eyre marked a complete shift to the moody moors and manor houses of Charlote Bronte's classic romance. The guy clearly isn't willing to box himself into a single genre, and he's changing things up again for his third film, which Variety reports will be the Civil War drama No Blood, No Guts, No Glory, which is described as The Dirty Dozen set during the 19th century battle. Can we get a "Hell yeah" before proceeding?
OK, now that we're all properly jazzed… Fukunaga will be making the film once again for Focus Features, which distributed his previous two films, and is writing the screenplay with Chase Palmer, who wrote an initial version that appeared on the 2009 Black List. It's based on a true story about a spy and 20 Union soldiers who infiltrate a Georgia train in order to pull off a heist; the historical event already inspired one great film, Buster Keaton's silent The General, but who's to say it can't work twice?
Another interesting nugget of news buried in Variety's story is that Fukunaga had been in line to direct The Wolverine for Fox, the project that Darren Aronofsky bailed on in March; he's "no longer in contention" for the job, which likely means that Fox decided they didn't want him after all. Fukunaga probably wouldn't have minded the paycheck and the giant budget to play with, but I'm far more excited at the idea of this innovative and constantly suprising director working with slightly more original material. With the script still in progress we probably won't get a look at No Blood, No Guts, No Glory any time soon, but I have a pretty good feeling it will be worth the wait.
Staff Writer at CinemaBlend
Your Daily Blend of Entertainment News
Thank you for signing up to CinemaBlend. You will receive a verification email shortly.
There was a problem. Please refresh the page and try again.