This Japanese Godzilla-Themed Hotel Is Pretty Sweet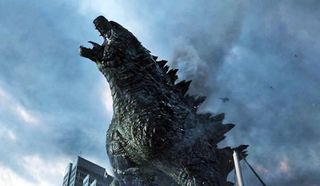 If hotels aren't generally terrifying enough for you, don't worry, we've got what you're looking for. You won't get murdered by a guy in a dress like at the Bates Motel (probably not anyway), but you might just get stepped on by the King of the Monsters if you spend the night at this Godzilla-themed hotel in Japan.
The Hotel Gracery in the Shinjuku ward of Tokyo is definitely the kind of place you want to stay if you lament the fact that there's not a skyscraper-tall, radioactive lizard constantly peering into your hotel room as you sip your morning coffee. Only two of the rooms offer this particularly unsettling feature, and we suspect that, even if you know that Godzilla is looming outside, it'll still give you quite a shock first thing in the morning.
The 30-story hotel is located above Toho Cinema, and the Godzilla historians among you are probably well aware of the fact that Toho is the company responsible for creating the creature in the first place. Well, Toho and wayward atomic energy. With this set up, you have to imagine that you'll be able to catch one of his big screen adventures from time to time right before bed, which promises some intense dream activity.
Among the amenities the Hotel Gracery offers are the aforementioned Godzilla View Rooms, an observation deck where you can hang out next to the giant Godzilla head that hovers over the street below, and even the Godzilla Room, which is decked out with just about everything you can think of related to the biggest, baddest movie monster of all time. That's the room you see with the giant monster hand, and seriously, even the crapper is fully decorated in theme.
This is sure to become a must-visit site for all of you hardcore Godzilla fans out there, and as you probably expected, it's a bit on the pricy side, though maybe not as much as you expect. The Godzilla Room will set you back $334 on a normal weeknight, though it jumps up to $417 on weekends and holidays, but the view rooms start at $125 a night, which is reasonable. That actually seems like the much cooler option anyway, but they only have a single bed, and, located next to the observation deck as they are, if there are people outside taking pictures and having a good old time, it might be a little noisy. Still, I'm willing to be you've stayed at worse places, I know I have.
You can't check into the Hotel Gracery just yet, but it's scheduled to open its doors to the public on April 24, which is only a few days away. If you stay there, feel free to hit us up and let us know how it is. If it's worth it, this might just be the destination of our next vacation.
Your Daily Blend of Entertainment News
Thank you for signing up to CinemaBlend. You will receive a verification email shortly.
There was a problem. Please refresh the page and try again.