Now Streaming: Netflix Instant Alternatives To Godzilla, X-Men: Days of Future Past And Blended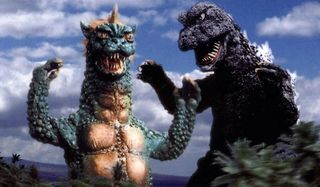 With so many titles to choose from, Netflix Instant's library can be overwhelming. So we bring you this biweekly column as a tool to cut through the clutter by highlighting some now streaming titles that pair well with the latest theatrical releases.
Looking to Godzilla, X-Men: Days of Future Past and Blended for inspiration, we've pulled together a selection of monster movies, time-travel tales and romantic comedies.
Godzilla
The biggest movie monster of all time rises from the depths of the Pacific Ocean to reclaim his title of King of The Monsters, defending humanity against some massive and world-rattling creatures. Aaron Taylor-Johnson, Elizabeth Olsen, Bryan Cranston and Ken Watanabe star; Gareth Edwards directs. Read our review here.
If the latest addition to the Godzilla mythos has made you feel nostalgic for the Japanese originals, you're in luck. Netflix has a mammoth selection of monster movies, including this Godzilla-centric trio.
Godzilla: King of the Monsters (opens in new tab) (1956) An English-redubbed version of the original 1954 film that proved a groundbreaking hit in Japan, this monster movie sees the awakening of a 400-foot-tall beast. When nuclear tests rouse him from 1,000 years of sleep, Godzilla terrorizes Tokyo, tramping it to ruin. Raymond Burr, Takashi Shimura, Akira Takarada, Momoko Kochi, Akihiko Hirata, and Kokuten Kodo star; Ishirô Honda directs.
Godzilla vs. Mothra (opens in new tab) (1964) In this, the fourth film in the growing franchise, Godzilla battles one of his best-known nemesis: Mothra. When the great Godzilla rises from the sea, this massive moth takes to the air to defend the people of Japan, setting up for an earth-shattering showdown. Akira Takarada and Yuriko Hoshi star; Ishirô Honda directs.
Godzilla's Revenge (opens in new tab) (1969) Also known as All Monsters Attack, this is the tenth film in the Godzilla franchise, but the first created specifically for kids. Though it boasts plenty of monster-on-monster violence, the core of the story is about a lonely latchkey kid who dreams of Monster Island. Specifically he fantasizes about the exploits of Godzilla's Son, Minilla, who shares the boys' problems with bullies. Kenji Sahara and Machiko Naka star; Ishirô Honda directs.
Bonus Godzilla titles: Godzilla Raids Again (opens in new tab), Ghidorah: The Three Headed Monster (opens in new tab), Godzilla vs. Monster Zero (opens in new tab), Terror of Mechagodzilla (opens in new tab), and Rodan (opens in new tab).
X-Men Days Of Future Past
The latest entry in the X-Men saga unites both wings of the franchise. When a future is formed that is too bleak for the X-Men to allow, Wolverine is sent into the past to reunite the divided team to save the world from robot-enacted genocide. Patrick Stewart, Ian McKellen, Hugh Jackman, Michael Fassbender, and James McAvoy star; Bryan Singer directs. Read our review here.
Since we did a selection of superhero movies for the release of The Amazing Spider-Man 2, this week we've opted to focus on the time travel aspect of X-Men Days Of Future Past. From brawny terminators to brainy doctors and a heartsick playwright, these tales of time travel will make the hours fly by.
The Terminator (opens in new tab) (1984) Arnold Schwarzenegger stars as the titular cyborg assassin from an apocalyptic future where mankind has been overrun by artificial intelligence. To wipe humanity's last chance at salvation, this Terminator travels back to 1984 to find the mother of resistance leader John Connor, and kill her before he can ever be born. Michael Biehn and Linda Hamilton co-star; James Cameron directs. Make a DIY double feature, coupling this with Terminator 2: Judgment Day (opens in new tab).
Doctor Who (opens in new tab) (2005) Sixteen years after the original 26-season long show went off the air, the iconic British sci-fi series returned to television with new stories, new sex appeal, and new doctors. Christopher Eccleston, David Tennant, and Matt Smith star as The Doctor's latest incarnations, who travel time and space looking for fun and adventure, but often stumbling upon life or death scenarios and impossible decisions. Be warned: it's just as addictive as you've heard. Seasons 1-6 are streaming.
Somewhere in Time (opens in new tab) (1980) This suggestion actually comes courtesy of R.L. Stine who tweeted about this time travel romance. Christopher Reeve stars as a playwright who becomes obsessed with the vintage portrait of a woman from the 1900s. Using hypnosis, he travels back in time to seek out his dream girl. Jane Seymour and Christopher Plummer co-star; Jeannot Szwarc directs.
Blended
Drew Barrymore and Adam Sandler re-team for a romantic comedy about two single parents who suffer through a terrible blind date only to cross paths in a spur-of-the-moment trip to Africa. Wendi McLendon-Covey and Kevin Nealon co-star; Frank Coraci directs. Read our review here.
Summer is coming and love is in the air! Celebrate both with some romantic comedies that combine love and travel.
Romancing the Stone (opens in new tab) (1984) Kathleen Turner stars as a sheltered but successful romance novelist who has the rare chance to live out an adventure befitting one of her heroines. Once her sister is kidnapped in Columbia, she rushes to the rescue, but soon runs into trouble. Luckily, she crosses paths with a rugged wild man (Michael Douglas) who introduces her to the ways of the jungle and of love. Danny DeVito co-stars; Robert Zemeckis directs.
Bridget Jones: The Edge of Reason (opens in new tab) (2004) In the follow-up to the hit rom-com Bridget Jones's Diary, Renée Zellweger reprises her role as the titular heroine who is easily befuddled by love, sex, and career. The story picks up with Bridget still with Mark Darcy, and hopeful he'll soon propose. But the road for happiness is never smooth for this Brit wit, and a trip to Thailand throws her whole world into spin. Colin Firth and Hugh Grant star; Beeban Kidron directs.
Roman Holiday (opens in new tab) (1953) Last but not least a classic that boasts three Academy Awards, including one for its leading lady Audrey Hepburn. She stars as a proper princess who has too long been kept inside the dull walls of her castle. So, one beautiful day she slips pasts her guards and out into the streets of 1950s Rome, where she stumbles upon a charming paparazzo played Gregory Peck. Eddie Albert co-stars; William Wyler directs.
For even more selections, check out our Now Streaming archive.
Staff writer at CinemaBlend.
Your Daily Blend of Entertainment News
Thank you for signing up to CinemaBlend. You will receive a verification email shortly.
There was a problem. Please refresh the page and try again.