Jason Bateman Will Direct and Star With Nicole Kidman In The Family Fang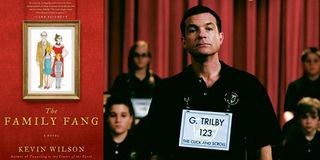 Jason Bateman has earned a reputation as a comedian with his roles in the cult sensation Arrested Development, the bittersweet teen comedy Juno, and the dark and demented Horrible Bosses. But when he's not headlining laffers, he's been directing them. After years of dabbling in directing television shows like Family Matters, Two of a Kind and Arrested Development, Bateman made his feature directorial debut this year with the Andrew Dodge-penned comedy Bad Words. The film, which made its world premiere at September's Toronto International Film Festival, apparently impressed Nicole Kidman in addition to critics, and she's hired Bateman to direct her next project, The Family Fang. Deadline reports that he will not only direct the feature, but will also co-star opposite Kidman, who will produce the pic as well.
Based on Kevin Wilson's bestselling novel, The Family Fang centers on a family whose lives are entirely dedicated to creating avant-garde performance art, whether the kids like it or not. Annie and Buster are the children, subjects and muses of Caleb and Camille Fang, but to the world they are Child A and Child B. Having your life made fodder for bizarre spectacle is not something either enjoys, so as adults they keep their distance from their aging parents. But when their adult lives fall into chaos, both return to the unconventional comforts of the Fang family home only to be caught up in one last art project. Hanna Pittard, author of The Fates Will Find Their Way described the hilarious novel as, "The Royal Tenenbaums meets Who's Afraid of Virginia Wolf." With talk like that expectations for The Family Fang movie will be pretty damn high.
Kidman previously produced Rabbit Hole, a captivating drama that playwright David Lindsay-Abaire adapted from his play of the same name. The film won plenty of praise and garnered Kidman an Academy Award nomination, proving just how effective a producer she can be for her own career. With an eye to leading The Family Fang, Kidman picked up the screen rights to the novel back in 2011. Shortly after, she and Lindsay-Abaire reteamed once she signed the celebrated playwright to write the adapted screenplay.
For his part, Bateman's been earning rave reviews for Bad Words, which kicked off a bidding war that ended with Focus Features picking up the film for $6 million, one of TIFF's biggest signings. The Family Fang is set to shoot in 2014, but it remains to be seen is who Bateman and Kidman will play, as the Deadline article leaves out that detail. I haven't read the book, but if you have tell us in comments if you think Kidman and Bateman will play the kooky art-creating parents or their grown and resentful art piece children.
Staff writer at CinemaBlend.
Your Daily Blend of Entertainment News
Thank you for signing up to CinemaBlend. You will receive a verification email shortly.
There was a problem. Please refresh the page and try again.