Jason Mewes Joins The Science Of Cool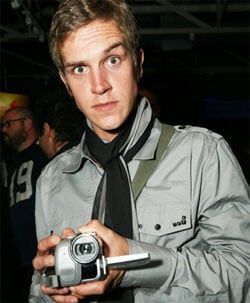 Screenwriter Eric Goren revealed to us earlier today that Jason Mewes has just signed on as one of the leads opposite Mischa Barton in The Science of Cool. The movie tells the story of two science-loving nerds who stumble on a cool formula, turning them into studs.
Here's how Goren says Mewes fits: "Jason will be playing the role of Coach Cambria, the obnoxious gym teacher who torments the nerdy leads Neil and Gilbert. We also have Mischa Barton on board to play the leading female role of Jane, who is a very plain and ordinary girl until she ends up as part of the science experiment that Neil and Gilbert concoct."
The movie sounds a little bit Weird Science meets The Nutty Professor to me, and that's not necessarily a bad thing. With the popularity of teen sex comedies it's sort of amazing someone hasn't done something like this already. Besides, with Obama as president science is cool again. If you're a nerd, what better way to get the girl? Grab a bow tie and a Bunsen burner America, Mischa Barton is just one chemical accident away.
Since stepping away from his Jay character to play something different in Zack and Miri Make a Porno, Mewes has been pretty busy. Counting this one, Jason now has at least eight movies on his schedule, and none of them involve Kevin Smith.
Your Daily Blend of Entertainment News