Jason Segel Will Not Even Cameo In Muppets, But Appears In This Is Forty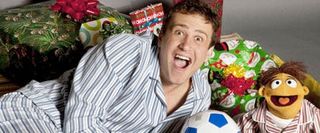 Thanks to Jason Segel, the Muppets are back. His boyish charm, daffy sense of humor and devoted love of these capering puppets all played out into the spirited revival that was the critically lauded box office hit The Muppets. When news broke that Muppets director James Bobin and co-writer Nicholas Stoller were in the works on a sequel, many were shocked to hear Segel's name left out of the project. First he wasn't writing it, being too busy between How I Met Your Mother and a hectic slate of movie projects. Then Segel quashed our hopes of seeing him reprise his role as that Muppet of a man, Gary. And now, the lumbering leading man makes it clear he will not even pop up as a cameo in Muppets 2.
"No, no cameo," Segel told The Playlist while doing press for his new comedy with Stoller The Five-Year Engagement. But take heart, Segel fans, there's no bad blood. He's just ready to move on, explaining:
Segel was such a great fit with the Muppets that it's sad to hear he's not returning. But the fact that he invokes the final lesson of The Muppet Movie in the answer above—"Life's like a movie, write your own ending. Keep Believing; keep pretending. We've done just what we set out to do!--gives considerable solace. Also, the fact that he's confident in leaving the project in the hands of Stoller and Bobin speaks well for the Muppets sequel, though I'll feel better once Oscar-winning Muppets songwriter Bret McKenzie has signed on.
In other cameo news, Segel will be popping up in Judd Apatow's Knocked Up spin-off This is 40, reprising his role as "Jason," who infamously gave his manchild housemates pinkeye after a gross prank war gone awry. "It's only a few scenes, but it was so much fun. The function of that kind of part is just to come in and be funny, " Segel offered, "You show up to a movie like [Five-Year Engagement] and I have to be heartfelt and honest and dig deep and really do some acting. A movie like This is 40, I'm like a pinch hitter. My job is just to come in and give them a home run."
Segel's proven himself as a leading man, but it's refreshing to see him so willingly dive back into the occasional supporting role. It's these kind of change-ups and explorations that keep a career fresh and interesting, and with moves like these Segel has become one of Freaks and Geeks most impressive alums.
The Five-Year Engagement will make its World Premiere tonight, kicking of The Tribeca Film Festival; a theatrical release will follow April 27th. This is 40 will open on December 21st. The Muppets 2 is currently in development, but may hit theaters as soon as summer 2013.
Your Daily Blend of Entertainment News
Staff writer at CinemaBlend.