Jason Segel And Hugh Jackman Are Making A Movie Together, It Sounds Great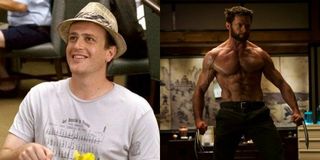 In what is a pairing that I'm pretty sure the entire cinematic community can get behind, it's been announced that Jason Segel and Hugh Jackman are currently in talks to share the same screen together. In fact, Collateral Beauty is shaping up rather nicely, because not only might it feature both Segel and Jackman, but Rooney Mara is on-board and it is being directed by one of the most in-demand filmmakers of the year.
Variety have reported that Jason Segel is currently negotiating to join Hugh Jackman and Rooney Mara for Collateral Beauty. The Australian actor and American actress have already signed on the dotted line to feature, and they will be hoping the Segel decides to continue his recent dramatic work by joining them too. Segel has been wowing the film festival circuit recently thanks to his portrayal of David Foster Wallace in The End Of The Tour.
The film revolves around a New York advertising executive who suffers a huge tragedy. Unable to comprehend or adjust to his life being flipped upside down in such a dramatic fashion he is plunged into a deep depression. Aware of his downward spiral, the man's colleagues then devise a unique and unconventional plan to help break him out of his plight. The plan works, however not in the fashion that anyone actually imagined.
Sounds like interesting stuff. Especially since this brief outline isn't giving too much anyway regarding the tragic incident that leads the main character into his depression, what his colleagues do to him to help him out of it, and what effect it has on him. Still, with Hugh Jackman, Rooney Mara, and now, hopefully, Jason Segel involved, it's hard not to be intrigued by Collateral Beauty, while it's safe to assume that it possesses some worthwhile trait to have attracted this impressive trifecta.
Alfonso Gomez-Rejon has already picked out Collateral Beauty as his follow-up to Me and Earl and the Dying Girl. Just like Segel with The End Of The Tour, Gomez-Rejon, who has honed his craft as a director in television and adverts, has been receiving rave reviews for his sophomore directorial effort.
There was a bit of a stir for Collateral Beauty at the Cannes Film Festival just a few short weeks ago. Allan Loeb's script created quite a frenzy, and PalmStar Media were the studio who ultimately outbid the other suitors to land the coveted project. Soon after this purchase, Gomez-Rejon decided that Collateral Beauty would be his follow-up to Me And Early And The Dying Girl, which is the perfect antidote for those of you who have grown weary of the summer blockbuster season. It's funny, heart-wrenching and downright poignant. And if Gomez-Rejon can get Collateral Beauty to be even an iota as touching as it then, especially with the cast involved, it will be one not to miss. Collateral Beauty is expected to star shooting in the fall.
Your Daily Blend of Entertainment News