Jeff Bridges Has The Strangest Seventh Son Accent, Here's Why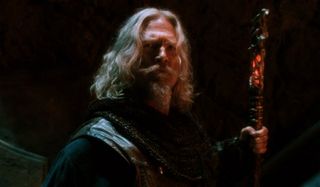 Jeff Bridges and Julianne Moore are two of the coolest people you could ever meet, and they certainly don't have to be. Both are multi-nominated actors who have headlined some of the biggest films of all time. But as soon as I walked in to interview them, "The Dude" welcomed me with some friendly banter about beard maintenance, while Moore told me about her son's sick guitar skills. So, while I was hesitant at first to bring it up, I quickly felt comfortable asking about the one thing from their joint film Seventh Son that stuck with me most: Bridges' accent.
As I told him, this aspect of his character, the supernatural-fighting Spook known as Master Gregory, tickled me as I heard it leave his mouth. It became even more prominent as the film went on, since he's the only character in this entire fantasy landscape who has a heavy accent. However, Bridges seemed all too happy to talk about it, and revealed some interesting details about how he created it — before serving up another taste of it.
It turns out that Bridges came up with this way of speaking all his own, after going into what he describes as a meditative state to allow his character to inhabit his body. From the depths of The Dude's inner soul emerged a voice that he then got approval from director Sergei Bodrov to run with. The actor did reveal that to get the exact sound we hear from him in Seventh Son, he wore fake teeth, which he mentioned you couldn't really see underneath his 'stache.
Jeff Bridges and Julianne Moore have known each other for a while, but they haven't worked on a film together since The Big Lebowski. Though, their friendship seemed as strong as ever while they were out promoting Seventh Son, as they often times devolved into playful banter.
In light of the film's large VFX component, I asked which stunt they were most surprised to see created through practical means, and they first offered a serious answer. In an early scene, we see Moore glamorized as a demonic witch fighting the Spook with her metallic tail. In an attempt to defeat her, she is locked in a cage and set ablaze. "We had a tremendous amount of fire," Moore laughed, "and I was like, 'Are we really gonna burn?'" Though, they slowly but surely slid into sillier answers about her incredible non-CGI flying skills. "When I found my tail, that's when I found my wings."
Seventh Son will be in theaters on Friday, February 6.
Your Daily Blend of Entertainment News
Thank you for signing up to CinemaBlend. You will receive a verification email shortly.
There was a problem. Please refresh the page and try again.