The New Seventh Son Trailer Has A Ton Of Cool Monsters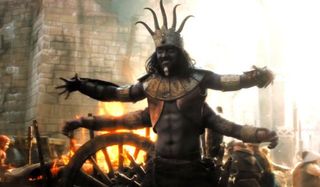 Jeff Bridges is back to being an absolute badass in the latest clip for the epic fantasy film, Seventh Son. Watch as he takes on towering and terrifying monsters of every thinkable shape and form in the newest trailer:
Bridges stars alongside Ben Barnes (The Chronicles of Narnia) and the wonderful recently Oscar-nominated Julianne Moore for her performance in Still Alice in this grand scale monster/fantasy epic tale based on the novel, The Spook's Apprentice. The story centers on Barnes character Thomas Ward who is the seventh son of a seventh son, and the apprentice of Bridges' character John Gregory, the Spook. The job of a spook is to protect his country from witches, ghouls, boggarts, and all the scary monsters that roam their land. However, with Bridges character getting older, he seeks out an apprentice to fill his shoes and the story follows the entire training process and whether or not the young man can survive.
Well, this trailer gives us a glimpse into how difficult this training process is going to be. There are some big bads out there, and Bridges and Barnes are in for quite the deadly adventure.
First we are introduced to by far the biggest grizzly bear known to man.
Then some creepy skeleton Harry Potter Dementor-type thing.
A bizarrely terrifying human/centipede hybrid of sorts.
And what the heck is this guy? The Creature from the Black Lagoon?
We've got a wide array of monsters in store, and we can't wait to see what other strange creatures are up for the fight. The release has been shifted a few times, but Seventh Son is officially hitting theaters February 6, 2015.
Your Daily Blend of Entertainment News