Jem And The Holograms Looks Bedazzled And Truly Outrageous In New Footage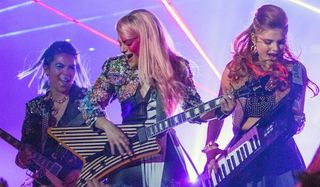 This is not the Jem and the Holograms some of us remember as kids. Where once there was a cartoon about a young girl who magically transforms into a totally '80s rockstar via her holographic super-computer, Synergy, now there's a modernized tale about a girl who becomes Internet famous and lands a record contract. Director Jon M. Chu discusses these changes in a new look at the film that is "truly, truly outrageous." Watch it below.
E! News unveiled the new look at Jem and the Holograms, which stars Aubrey Peeples as Jem, Hayley Kiyoko as Aja, Stefanie Scott as Kimber, and Aurora Perrineau as Shana. In the footage, the director discusses how you ground a film that's marked by the '80s in modern times, and according to him, you do that through relatable characters. You know another way you do that? Tap into the ever-growing fan base of YouTube stardom.
Peeples' version of Jem is your typical teenager who records a video of herself singing one of her original songs. Her sister overhears her and uploads it to YouTube with her knowledge. Overnight, the video blows up, making Jem a viral sensation. As a result, she's approached by a record label, and her band becomes actually famous. Though the cast and director discuss the film's themes about struggling with identity and angst of growing up, at the end of the day "it's about family," says Kiyoko.
Another aspect of the film that makes it totally '80s are the presence of Molly Ringwald and Juliette Lewis as Jem's mom and liaison to the label, respectively. Ringwald was a staple of the '80s Rat Pack generation, starring in films like Pretty In Pink, The Breakfast Club, and Sixteen Candles. Lewis, meanwhile, earned more recognition towards the late '80s and into the '90s with National Lampoon's Christmas Vacation, a stint on The Wonder Years, Cape Fear, and From Dusk Till Dawn.
Aside from some new footage showing the characters both on and off stage, this behind-the-scenes look is very much in line with what we've already seen from the trailers that have come our way. Basically, if you took a Lisa Frank kit and bedazzled the heck out of a movie, it would look something like this.
Jem and the Holograms hits theaters on October 23.
Your Daily Blend of Entertainment News
Your Daily Blend of Entertainment News
Thank you for signing up to CinemaBlend. You will receive a verification email shortly.
There was a problem. Please refresh the page and try again.