Jennifer Lawrence May Be Up For Hunger Games Lead, But There's Controversy Too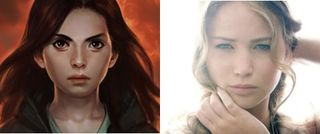 With True Grit hitting theaters in December and the movie adaptation of The Hunger Games set for an official release date a month later, there was near constant speculation that True Grit star and Oscar nominee Hailee Steinfeld would be picked to play Katniss Everdeen, the fierce lead character of all three books in the Hunger Games series. Steinfeld looks a fair bit like the illustrations of the character that accompany the book, and we all know she can express determination and strength well beyond her years. Steinfeld herself has admitted she's been in consideration for the part, but the search isn't over yet, as two new bits of news well prove.
The first, and least confirmed, is word at Lainey Gossip that another recent Oscar nominee, Jennifer Lawrence, auditioned for the part and "blew them away." The story says that Lionsgate really wants Lawrence for the part, though of course there are plenty of negotiations to get through. There's also the fact that Lawrence is 20, four years older than Katniss is at the beginning of the first book in the series.
Plus, there's also the article in The Wall Street Journal about this very casting process, visiting the office of casting director Debra Zane as she sorts through both pitches from experienced actors and submissions from Hunger Games fans all over the world. The specified age range is between 15 and 20, which would put Lawrence at the very top of that range, and Steinfeld at the bottom-- an advantage for Steinfeld if they're making a trilogy of films, so that she can age alongside the character.
Beyond the casting speculation, though, there's some controversy to the description Zane and her team have been providing. Here it is, in full:
First of all: Caucasian? Hunger Games author Suzanne Collins is careful to write Katniss as being of ambiguous ethnicity, with straight dark hair, olive skin and gray eyes-- basically, she could be from any race. It's not really a surprise that they'd want to cast a white girl in the role, given the myopic way Hollywood views race and who sells tickets, but kind of shocking that they'd completely exclude auditioners of other races. Then there's the "underfed" thing-- again, not a surprise, given that Katniss is a warrior struggling in a dystopian future society, but kind of an insane thing to specify when you're auditioning young actresses who are already plenty pressured to be thin.
With The Hunger Games set for release on March 23, 2012, production is likely to gear up very soon. At this point it's impossible to know if they'll pick Lawrence, Steinfeld, some other teen starlet or someone totally unknown; what's disappointing for a lot of the book's fans, and fans of diversity in general, is that we know it'll be a skinny white girl who gets it.
Your Daily Blend of Entertainment News
Staff Writer at CinemaBlend