Jeremy Renner Explains Why Hawkeye Wore That Bizarre Black Widow Mask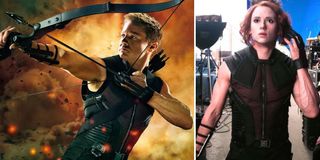 Jimmy Fallon is an impressionist, a talk show host, and a comedian. But last night he proved a top-rate investigative reporter when he uncovered the origin of that nightmare-inducing image of Jeremy Renner in full out Hawkeye gear wearing Scarlett Johansson's face.
On The Tonight Show Starring Jimmy Fallon, Jeremy Renner came on to promote his first producing effort Kill The Messenger, a docudrama we recommend you seek out. But amid talk of that and the sprawling franchises Renner has miraculously woven himself into, Fallon asked specifically about the unusual pic from the set of Avengers: Age of Ultron.
Renner explained this atrocity by saying:
You can watch him discuss it with Jimmy Fallon in the video below:
The results speak for themselves:
While the internet did a collective double-take over this mind-melting pic, Renner also managed to inadvertently share a peak at Hawkeye's costume for Avengers: Age of Ultron. (See the comparison in the split image above.)
While Jeremy Renner has been doing press to promote the dark drama Kill The Messenger, he's been dropping Hawkeye bombs. For one thing, though he was at one point scripted to be a major part of Captain America: The Winter Soldier, Renner has no idea if Hawkeye will pop up in Captain America 3.
As for a solo project, Scarlett Johansson may be fighting for a spin-off, and Robert Downey Jr. might feel Renner's due one too. But Renner is less convinced, confessing, "I think (Hawkeye)'s a utility guy that can bounce around into other people's universes a little bit, especially like Cap 3."
For now, we know Hawkeye will return to the Marvel Cinematic Universe for the Joss Whedon-directed Avengers: Age of Ultron on May 1st, 2015. Beyond that's a mystery for now. But with Marvel promising a slew of projects through the next five years, we suspect Renner will have plenty more opportunities to sport purple (Black Widow masks) and let the arrows fly.
In the meantime, check out Renner in a grittier more grounded role.
Kill The Messenger opens Friday.
Your Daily Blend of Entertainment News
Staff writer at CinemaBlend.