Jesse Eisenberg Apparently Knew Nothing About Comic Books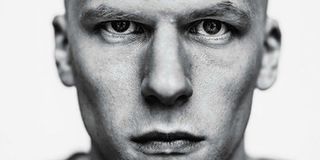 Who says you have to be a comic book fan to be in a superhero movie? Actor Jesse Eisenberg, who will play Lex Luthor in the upcoming Batman v Superman: Dawn of Justice movie, apparently knew nothing about comic books before tackling the role of Superman's most enduring villain.
In an interview with The Tonight Show host Jimmy Fallon, Jesse Eisenberg, bravely confessed to the viewing audience, and Fallon of course, that he knew nothing about comics. The irony here, that The Social Network star is in fact portraying Lex Luthor, noted Superman nemesis, in the upcoming Batman v Superman: Dawn of Justice movie. Here's what the quick-witted actor had to say when asked by Fallon if he was a comic book fan or Superman fan growing up:
I would imagine that the Now You See Me actor isn't the only actor in Hollywood who has starred—or will star—in a superhero film without having any prior knowledge of comic books; or at least is willing to bravely admit to such a thing publicly. The thing is, however, that these films are big business for movie studios as of late, and therefore any working actor is likely to find themselves in a position where they are considering or being considered for a part in a superhero film, not that it's a bad thing either. With well-respected thespians like Sir Anthony Hopkins taking roles in superhero films like Thor, for example, the bar has officially been raised for superhero films, attracting the best and the brightest of actors to get in touch within their inner comic book hero or villain. Eisenberg isn't Sir Anthony Hopkins, but he sure is on his way. The Zombieland star has accumulated quite a few awards and nominations for his performances over his career, which means that he too is raising the bar for superhero films, whether he knows about the characters or not.
Nowadays, Eisenberg is probably way more adept in comic books and all things Superman given that he will be in the highly anticipated Batman v Superman movie coming out next year as well as the upcoming Suicide Squad film. In both films the once comic book-shy actor will portray one of the most well known villains in all of comic books, Lex Luthor, two performances that are likely to garner more critical acclaim for the rising star.
Your Daily Blend of Entertainment News