Jessica Biel Is Getting F***ING ENGAGED!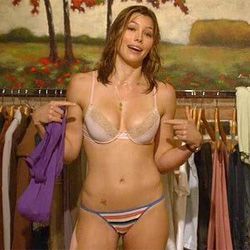 I wanted to say that Jessica Biel is going places, but then I took a quick glance at her IMDB page and, well, I guess she isn't. While she's definitely been more popular than she is these days, she has rarely, if ever, transcended the "just a hot girl" role. Other than Jessica Biel's adorable face and that scene where she shows off her huge... knowledge of gay rights, why would someone go see I Now Pronounce You Chuck and Larry?
It may be possible for Biel to save her career, though, as she's just signed onto a movie titled, F***ing Engaged. Yes, that's the title. According to THR, the movie follows a young couple who decide to make a pact to have sex every day until they get married. The flick will be penned by newcomer Julia Brownell. I'm going to guess that if Kevin Smith is having a hard time getting the name A Couple of Dicks approved, this titled won't last long either.
F***ing Engaged can go down two very different roads. With a plot and title like this, it can either be a broad, straight-to-dvd quality comedy that puts too much focus on the sex and not enough focus on being real and sincere, or this can end up being an Apatow-esque look at young relationships. I'm hoping for the latter, but the former would obviously have more boobs, and I'm cool with that too.
Your Daily Blend of Entertainment News
Thank you for signing up to CinemaBlend. You will receive a verification email shortly.
There was a problem. Please refresh the page and try again.