Jimmy Kimmel Has The Perfect Response To Space Jam 2 Haters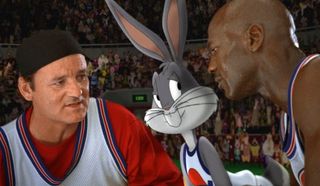 The other day, when basketball superstar LeBron James and his production company signed a deal with Warner Bros., it sparked both rumors that we could be getting Space Jam 2 and widespread outrage at the idea that we could get Space Jam 2. Overall, it's ridiculous, but Jimmy Kimmel had the perfect response to all the haters. Check it out below
During his opening monologue, Kimmel broaches the subject of LeBron James potentially starring in Space Jam 2, or even a remake—keep in mind, this is wild speculation of the part of the internet with little to no factual backing, but that hasn't stopped people from getting pissed. He says:
James has been earning praise for his role—playing a version of himself, so not exactly a huge stretch—in the Amy Schumer-scripted, Judd Apatow-directed comedy Trainwreck. Kimmel says he thinks it's a great idea and that maybe we'll see him remake other movies from the 1990s, like Thelma and LeBron, From Dusk til LeBron, or even LeBron James and the Giant Peach.
That audience plant expressing his outrage encapsulates the kneejerk reaction that springs up every time we hear about the next impending remake, reboot, or sequel to some movie we loved as a kid. Don't get me wrong, I do the same thing (please leave Logan's Run alone, Hollywood, for me), but I'm not above being taken down a peg. Kimmel's line is just about perfect, when he says:
This isn't the first time we've heard about LeBron James appearing in a Space Jam movie. The idea was kicked around back in February 2014, with reports that the superstar was going to replace Michael Jordan in a movie with Loony Tunes characters. Nothing came of that, but, as has been noted time and again, Warner Bros. does own the rights to Space Jam, and with James' production company inking a deal with the studio, this has likely occurred to them as a possibility.
Space Jam was released in 1996 and tells the story of a world under attack from aliens who want to kidnap popular cartoon characters for enslavement on their home planet. In order to stay free and defeat the aliens, Bugs Bunny and company must play them in a basketball game, because that's how intergalactic conflicts like this are handled in the real world, and they enlist Michael Jordan and Bill Murray to increase their odds of success.
There's a lot of nostalgia attached to Space Jam as those who saw it as kids are now all grown up, and few things piss off movie fans quite like the possibility of having that nostalgia tarnished. We'll have to wait and see if this happens, and how it impacts the movie's legacy, but in the meantime let us know how you feel in the comments below.
Your Daily Blend of Entertainment News
Thank you for signing up to CinemaBlend. You will receive a verification email shortly.
There was a problem. Please refresh the page and try again.