Joel Edgerton Addresses Controversy Over Exodus: Gods And Kings Casting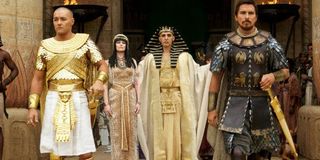 There's a long history of Hollywood casting the same familiar white faces that continues with Exodus: Gods And Kings, which hits theaters this holiday season. Normally a film toplined by Christian Bale and Joel Edgerton wouldn't cause any controversy, but this time, the casting (which also involves Sigourney Weaver and Aaron Paul, among others) has caused fans to strike back, with a Twitter campaign dedicated to raising awareness of the issue of a story of ancient Egyptians being told with mostly white actors. At the very least, said campaign has reached one of the film's stars.
Joel Edgerton spoke about the issue to the Australian network SBS (via The Guardian) and expressed empathy for the stance many have taken.
That quote might give those protesting the movie little comfort, but there's not much that Edgerton can say, really. Taking a stand on this issue means second-guessing the studio that just employed him, at a time when he cannot afford to do that with his career. He's not Jim Carrey, who can speak out and refuse to promote a film because he's already a well-established star. This is Edgerton's biggest role, and he's still far from a household name. In this instance, Edgerton was offered a chance to be in a Ridley Scott movie starring alongside Christian Bale, as well as a chance to get dem checks. You can't fault the guy for being a white Ramses, or for dancing around the topic in interviews.
It's 2014, and there have still been a couple of big whitewashing controversies in movies. First, Noah (aimed at the same primarily-white religious demographic that Exodus is targeting) earned some heat because of a lack of minority faces in what's meant to be a massive, unique community (the screenwriter did not do an admirable job addressing this). Joe Wright's Pan also earned some flack by adding Rooney Mara to the cast as the famously-Native American Tiger Lily. People spoke up in the case of Noah, but more people spoke with their dollars, validating that worldview with a $359 million gross. Ultimately, the final arbiter is the audience, and they'll keep supporting these films.
Exodus is likely to be one of the holiday season's biggest films, harkening back to the (yes, whitewashed) epics of yore. Staging a campaign against these issues is admirable, and the more people speak up and address it, the more likely change will come. But the answer is really, "replace the famous white actors with actual Egyptian actors," and as the profits rise, studios and audiences have little interest in presenting that world onscreen. It will be interesting to see if those participating in that Twitter campaign actually stick to their word and #BoycottExodus when it opens in theaters later this year.
Your Daily Blend of Entertainment News