How Star Wars, Game Of Thrones, And The Hunger Games Are Similar, According To One Star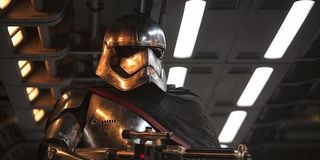 You may have noticed this, but Gwendoline Christie is having a pretty solid year. Game of Thrones won the big prize last night at the Emmys, she joins the cast of The Hunger Games for the final chapter in that saga later this year, and then she plays a key role in Star Wars: The Force Awakens. Not a bad run. And while those may seem like three very different properties, according to Christie, they all share one thing in common, they eschew the typical roles that women in Hollywood are often compelled to take for lack of options.
Talking to Variety, Christie, who plays Brienne of Tarth on Game of Thrones, Commander Lyme in Mockingjay, and Captain Phasma in The Force Awakens, said:
Clad in that sinister looking chrome armor, while we don't know much about the true role Captain Phasma plays in The Force Awakens, she is one of the characters that has already captured the attention of fans. There have been reports that the character was originally written as a man, and that the gender was swapped along the way. One theory for this is that it was done as a result of public backlash after the initial casting was announced and there were only two women—Carrie Fisher's Princess Leia and Daisy Ridley's Rey.
We don't know how true that is, but Christie has certainly taken a shine to the role, and she has proven that she can more than capably handle an imposing and physical role. The fact that the character spends most of her time completely covered by armor provided both an interesting challenge, and another way to subvert the traditional cinematic gender roles.
Unlike Darth Vader, who was voiced by James Earl Jones, but performed by David Prowse in that iconic costume, it's actually Gwendoline Christie in the suit at all time, something she said was key to her performance, both a challenge and an opportunity. She added:
We'll see Gwendoline Christie on November 20 when The Hunger Games: Mockingjay—Part 2 hits theaters, and again on December 18 when Star Wars: The Force Awakens finally arrives. After that, she'll be back for more Game of Thrones because hers is one of the characters who hasn't been killed off yet.
Your Daily Blend of Entertainment News