John Hurt Joins Chris Evans, Tilda Swinton In Bong Joon-ho's Snow Piercer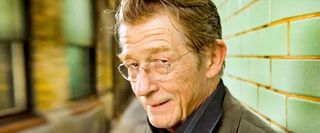 Bong Joon-ho's train-set thriller Snow Piercer continues to gain momentum with news that legendary English actor John Hurt has joined the cast that already includes Captain America: The First Avenger star Chris Evans and internationally heralded chameleon Tilda Swinton. It's little wonder Joon-ho's English-language debut is drawing so much star-power, as the South Korean writer-director and his collaborator and producer Park Chan-wook have each won worldwide admiration and accolades for their tautly-paced, character-driven dramas, Mother and Oldboy respectively. For his part, Hurt, who has just completed work on the family-drama Jayne Mansfield's Car, admitted his delight in being involved with Snow Piercer with a cheeky statement to The Telegraph, saying:
All kidding aside, Snow Piercer is already set to be one of the most-anticipated films of 2013 as it continues to collect lauded talent from all around the globe. Aside from Evans, Hurt, and Swinton, The Adventures of Tintin's Jamie Bell is in talks to co-star, and South Korean actor Song Kang-ho, who starred in Joon-ho's The Host and Chan-wook's Sympathy for Mr. Vengeance, is also expected to make an appearance. As the drama centers on a wasteland-traversing train packed tight with a diverse batch of travelers, there's no knowing who might be tapped next to board. It's literally a world of tantalizing possibilities and Joon-ho seems to have his pick of talent. Plus, a script polish from Before the Devil Knows You're Dead scribe Kelly Masterson doesn't hurt his chances with American actors.
Snow Piercer is slated to begin production in March, so more casting news should break soon.
Staff writer at CinemaBlend.
Your Daily Blend of Entertainment News
Thank you for signing up to CinemaBlend. You will receive a verification email shortly.
There was a problem. Please refresh the page and try again.