John McTiernan Returning To The Director's Chair With Shrapnel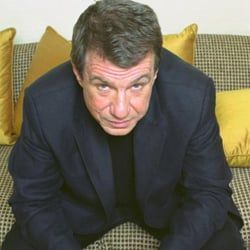 John McTiernan, who hasn't made a film since 2003's Basic (back when Travolta played a U.S. Army Colonel twice a year), has just closed a deal to direct Shrapnel, according to Variety. A pretty hot property, the script for the project was featured on the 2008 "Blacklist" of hottest unproduced movie screenplays and could be the film to bring McTiernan back to prominence.
The movie tells the story of two war veterans who are suddenly forced into a kill-or-be-killed game with one another. The only other info about the movie comes from an interview at Script Pipeline with script writer Evan Daugherty, where he describes Shrapnel as a "gritty, arthouse thriller." Sounds like an interesting combination, but then again, nobody's gonna freely admit their baby's gonna turn out to be a bum. In the interview Daugherty also cites Deliverance and Southern Comfort as influences for the story.
Though he is currently facing some legal trouble (he has a sentencing hearing in two weeks for lying to law enforcement officials during the trial of Hollywood private detective Anthony Pellicano) McTiernan is the legend behind action classics such as Die Hard and Predator, so his involvement certainly ups the pedigree of this project. Let's hope that this film can compare.
Your Daily Blend of Entertainment News
Thank you for signing up to CinemaBlend. You will receive a verification email shortly.
There was a problem. Please refresh the page and try again.