Jonathan Levine May Direct McG's Dead Spy Running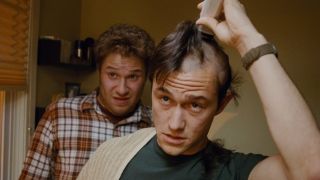 (Image credit: Sony)
Producer/director McG is known for productions packed with soap opera antics and spectacular action sequences. So in 2008 when Warner Bros. lined him up to helm their in-development espionage thriller Dead Spy Running, it seemed a good fit. Of course since then McG's directed the spy-centered, critically reviled box office flop This Means War, which may speak to why the studio is currently in talks with Jonathan Levine to direct Dead Spy Running instead. This makes the indie director the third helmer rumored for the project, following McG and—according to Twitch Film —Syriana writer-director Stephen Gaghan, who co-wrote the script alongside Jamie Moss (Street Kings). Now it appears that McG has moved into a producing role, and Gaghan has moved on to a different project altogether, leaving Levine to consider what could be his breakthrough into the mainstream.
Levine first drew notice in 2008 for his sophomore feature, The Wackness, which starred Ben Kingsley and Josh Peck, and won accolades at Sundance. Then just last year, he helmed the independent cancer comedy/biopic 50/50, which scored international praise and two Golden Globe nods. Presently, Levine is in post-production on the zombie drama Warm Bodies, which is set to premiere early next year. Now that could prove a hit with genre fans, but with McG as producer Dead Spy Running seems set up for a blockbuster-style release.
It's undeniably a major step for the up-and-coming director, but I wonder if it's one he's ready for. Personally I was underwhelmed by The Wackness and 50/50. Admittedly, both movies showcase strong performances, but each suffered from an unwieldy pacing and emotionally immature tone that lead to a sloppy execution. Of course, spy movies aren't generally known for their poignancy, but they are at their best when expertly paced. Plus, pacing seems to be especially key to Dead Spy Running as the story centers on a former MI9 operative who must fight for his life while running in the London Marathon. Maybe Warm Bodies will turn me around on Levine—I do love a good zombie flick--but at this point I'm dubious.
Your Daily Blend of Entertainment News
Staff writer at CinemaBlend.