Journey 2 Director Brad Peyton Helming Invasion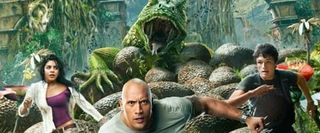 If you don't have young kids of a theater-going age, you probably haven't seen any of Brad Peyton's work. If you do, and you have, I'm sorry. He directed Cats & Dogs: The Revenge of Kitty Galore back in 2010, and he's at the helm of the likely just as unfortunate Journey 2: The Mysterious Island (pictured above). Fortunately, Peyton is trying to climb his way out of the crappy-kids-movies dungeon with his next project, a supernatural thriller called Invasion. Variety reports that Peyton has sold a pitch for the project to Reel FX.
Peyton will direct and produce Invasion, joined for the latter gig by Chronicles of Narnia producer/director Andrew Adamson. A new writer named J. Daniel Shaffer is penning the script. Schaffer has several credits listed on IMDb, but most of them are for his work as a grip. Hopefully he'll knock an awesome screenplay and successfully transition from crew to professional writer.
Most of the Invasion details are being kept close to the chest, but we do know a few things. The invasion in question is described as coming from a "supernatural force," so it sounds like this menace will be more of a fantasy/horror kind of baddie rather than aliens from outer space. At the center of the Invasion is a group of Philadelphia students who must suddenly figure out how to survive and fight back during whatever mysterious event is unfolding. Comparisons to Cloverfield are tossed out, although it doesn't say whether Invasion will be taking the ever-popular "found footage" route.
Your Daily Blend of Entertainment News
Thank you for signing up to CinemaBlend. You will receive a verification email shortly.
There was a problem. Please refresh the page and try again.