Judy Greer May Have A Bigger Role In Jurassic World Than Expected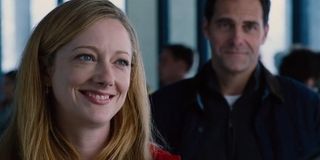 The long-awaited next installment to Steven Spielberg's 1993 dino-epic Jurassic Park is almost here. Among its cast are Guardians of the Galaxy star Chris Pratt, Spider-Man actress Bryce Dallas Howard and the always-lovable Judy Greer of Dawn of the Planet of the Apes. Not a lot is known about the big players' roles in the film as of yet, but Greer did recently give a bit more insight into her part in the film which may, as it turns out, be bigger than first let on, as she plays sister to a very important character.
We're guessing that Colin Trevorrow's Jurassic World, coming in June of this year, will likely keep fans on the edge of their seats. But that's not the only thing we've been left to speculate on. Due to Universal Pictures' tight-lipped approach to the release of their highly-anticipated sci-fi action adventure film, fans have been kept mostly in the dark with regards to anything more than basic plot. However, in a recent discussion with the cast of the animated series Archer on Larry King Now, Greer shared a bit more information about her character's backgound in the upcoming picture. Well, sort of.
Greer was very careful not to "loose-lip" any critical information about Jurassic World in her chat with King. While poked and prodded a bit, she kept a tight lid on the film, citing studio demands and non-disclosure agreements.
While we understand that she didn't exactly give up an encyclopedia of information about her role in the film, it certainly is more than we knew before. Up until this point, we only saw Greer appear in the trailer for a brief moment during the setup. In the short teaser, which you can check out below if you haven't already seen it, she can be seen sending off two boys (which we now can assume are her two sons mentioned above), before delivering the pre-supposing line that "something may happen" that will almost certainly having the boys hustling across the length of the massive dinosaur-populated theme park island. Also, with Howard's character playing a central role in creating the park's "first genetically-modified hybrid" dinosaur, there's definitely a chance her sister (Greer) will be forced further into the mix than we first thought.
Judy Greer's Jurassic World character in IMDB simply lists her as "Park Visitor," which we find to be a bit "mysterious." Also worth noting is the name (which is blank on IMDB at the moment) of the character we're assuming may be her significant other in the film (the man standing behind her in the airport in the trailer), played by Andy Buckley (The Office). We're not entirely sure what to make of the lack of information but it wouldn't be all that shocking to find out it's linked to the fact that they play a larger role in the plot, one that Universal opts not to share at present so as to keep from spoiling major story arcs.
Jurassic World is slated to release its second trailer during the Super Bowl, airing this Sunday, Feb. 1. Maybe that will shed a bit more light on the subject prior to the film's hitting theaters June 12, 2015.
Your Daily Blend of Entertainment News
Thank you for signing up to CinemaBlend. You will receive a verification email shortly.
There was a problem. Please refresh the page and try again.