Jurassic World Just Broke This Huge Box Office Record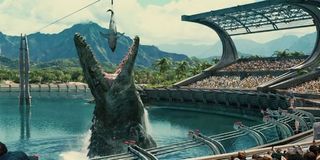 Jurassic World has opened to quite the box office success. The Chris Pratt-led installment of the Jurassic Park franchise surpassed all of its highest expectations, and has come out with a record debut in North America as well as setting a new all-time high globally.
It has been 22 years since Steven Spielberg's Jurassic Park hit theaters, but it looks like no one has lost interest in the franchise. The massive hit brought in a record $204.6 million domestically, which sits it at a nice second place between The Avengers at a $207.4 million launch and Avengers: Age of Ultron at 191.3 million. But globally is where Jurassic World's numbers are even more impressive. The dino-thriller now holds the largest weekend global box office in history, and the only film to cross $500 million in doing so. THR reports the international take at $511.8 million. The number one spot was previously held by Harry Potter and the Deathly Hallows - Part 2 at $483.2 million.
The big numbers rolling in must be causing smiles all around, as the film cost about $150 million, which was surpassed day one. Universal pins their success on not only the excitement leading up to the Chris Pratt hit, but also the release date, which other big budget films stayed clear of. As the money keeps piling though, fans sit patiently awaiting news of a sequel. Chris Pratt has already confirmed that he is indeed signed on for more films, but the official word of a Jurassic World 2 has not been solidified. When THR prompted Universal's domestic distribution chief Nick Carpou on the progress of a sequel announcement he told the publication that "if the filmmakers agree, we'd love to have another movie. But right now we are concentrating on this movie."
Not sure how much more concentrating the producers need. They've already flew by their initial predictions, and the weekend isn't even quite over yet. With increasing numbers, Jurassic World looks like it could completely surpass the first Avengers domestically, but Universal is being cautious with that projection because of tonight's NBA finals game.
This success only further proves Chris Pratt's star power. Of course the Jurassic Park franchise is a beloved entity among all ages, but to reboot a cult-classic becomes some what of a risk. Could this crazy success prove that Chris Pratt could lead any risky revivals? Indiana Jones has been whispered. We'll have to wait and see what the final numbers come out tomorrow morning, but it looks like Chris Pratt and his army of raptors are putting up quite the fight with Marvel superheroes.
Your Daily Blend of Entertainment News
Your Daily Blend of Entertainment News
Thank you for signing up to CinemaBlend. You will receive a verification email shortly.
There was a problem. Please refresh the page and try again.