Chris Pratt As Indiana Jones? Here Are His Latest Comments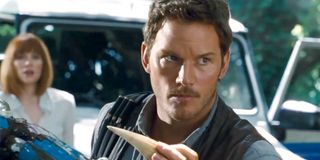 It seems like the Internet has collectively decided that Chris Pratt will be playing Indiana Jones in Lucasfilm's upcoming reboot. And once people on the Internet commit to something, there's no hope of quelling the storm. So when Pratt was on Jimmy Kimmel Live the other night promoting his latest film, Jurassic World, the late-night host brought up the topic. Once again, Pratt danced around the answer.
When Kimmel asked him outright if he was playing Indiana Jones, the actor said, "I don't know," before bringing on the gags.
Since Pratt became an international sensation playing Star-Lord in Marvel's Guardians of the Galaxy, fans got an Indy vibe from him and petitioned for him to land the role. When the first look of the actor in Jurassic World debuted, it brought those feelings back to the surface, especially given that photo of him straddling his motorcycle. Sprinkling more gasoline to the fire are the reports that say Lucasfilm is in fact eyeing Pratt for the job. Now that we know the resurrection of the dino-driven franchise can still make some major box office cash, it could be a good time for Pratt to succeed Harrison Ford as the legendary, adventure-seeking archaeologist.
Pratt would make a great Indiana Jones and is kind of like the Ford of a new generation. He may not be starring in Star Wars, but he's the lead in Marvel's version of Star Wars and he's got a hand in a couple of major franchises. Much like with the original Indy films, the new one (or ones) that Lucasfilm plans to make should be headlined a leading man with some oomph. Aside from Pratt, Bradley Cooper was rumored at one point for the role, but Pratt has been dominating the blockbuster sphere and he already has a large fan base backing his claim.
Watch Pratt's full comments on the matter below.
However, it's unlikely casting will even begin for at least a year. Earlier in May, Lucasfilm President Kathleen Kennedy confirmed that her team is working on bringing back Indiana Jones to the fold, but they haven't even started writing the script. Without a script, casting seems like a far-off thought. With Jurassic World currently in theaters making bank, a sequel -- or, perhaps, multiple sequels -- seems all but guaranteed. Pratt confirmed that he signed on for a bunch more, so we at least have more of Owen's raptor racing to look forward to.
Your Daily Blend of Entertainment News