Jurassic World Sequels Being Designed As A Trilogy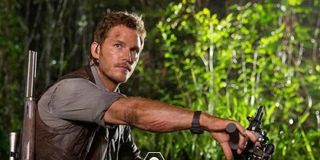 In news that will surprise absolutely no-one, the upcoming sequel to Jurassic World is going to be stretched into two movies. In fact, according to one of the head honchos over at Universal, it was always planned that Jurassic World would be the first of a brand new trilogy. Which they're happy to confirm now that Jurassic World turned out to be one of the highest grossing films of all time.
Universal studio executive Donna Langley not only confirmed that Jurassic World 2 and Jurassic World 3 – or is that Jurassic Park 5 and Jurassic Park 6? I'm confused – are currently being worked on, but she also revealed that the films are in pretty good hands, too. That's because Colin Trevorrow, who co-wrote and directed Jurassic World, and a certain Steven Spielberg are the ones who are outlining the future editions to the franchise. Langley explained to The Hollywood Reporter:
Donna Langley's insistence that this is a happy surprise is a rather large understatement, because it's very likely that the sequels will pocket Universal billions of dollars when they are released in a few years time. Jurassic World shocked the world with just how successful it was when it was released earlier this summer. Sure, most moviegoers were quietly looking forward to Jurassic World when it was originally announced. And then the confirmation that the perennially watchable and suavely charismatic presence of Chris Pratt would lead the way also increased anticipation quite a bit, too.
But no-one predicted that Jurassic World would go on to break all kinds of box-office records upon its initial release, before then becoming the third-highest grossing film of all time. Especially since, while it was rather enjoyable, it was only flippant fun rather than anything substantial. If anyone would even have suggest that beforehand it would have been dismissed as pure poppycock.
Jurassic World did just that though. And now Universal has a bona-fide box office behemoth on their hands. Hopefully, the impending sequels won't follow the path of the original follow-ups to Jurassic Park though.
While Steven Spielberg's original 1993 action-adventure is rightfully regarded as one of the greatest films of all time, The Lost World: Jurassic Park was instantly dismissed as inferior, while Jurassic Park 3 is just laughable. We can expect to see Jurassic World 2 in the summer of 2018, while the Jurassic World 3 will probably follow in either 2019 or 2020, depending on if they're filmed back to back or one at a time.
Your Daily Blend of Entertainment News
Thank you for signing up to CinemaBlend. You will receive a verification email shortly.
There was a problem. Please refresh the page and try again.