Kate Beckinsale Will Return As Selene In Underworld 4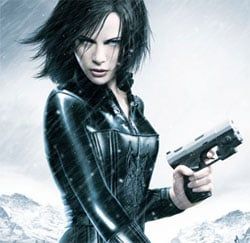 The Underworld franchise is still out there, trundling along. It's managed to survive the third film, even though movie number three happened without franchise lead Kate Beckinsale. Currently they're planning a fourth movie and, even though they survived without her, we've been hearing rumors for months now that Beckinsale might be back as Selene in Underworld 4. Now it's confirmed.
In a press release sent out a few moments ago producers announced that Kate Beckinsale is now on board Underworld 4, where she'll play the lead as Selene. They've got a script ready to go, written by John Hlavin and then touched up by none other than J. Michael Straczynski. Straczynski's involvement is, perhaps, a good sign for anyone who's been left wondering when they were going to get around to telling a worthwhile story. He knows his way around a genre screenplay.
The movie is, however, without a director. The first two movies were directed by Kate Beckinsale's real life husband Len Wiseman, but he stepped back into a producing role on the third film and seems happy to remain there for the fourth one as well.
No word yet on what the fourth movie will be about, but we do know they're on the lookout for an actress to play Selene's daughter. It sounds like a pivotal role, so presumably the plot will involve Selene getting all domestic. Production on Underworld 4 is set to start in Vancouver, BC some time during March of 2011.
Your Daily Blend of Entertainment News
Thank you for signing up to CinemaBlend. You will receive a verification email shortly.
There was a problem. Please refresh the page and try again.