Ken Jeong Gets His Own Movie Thanks To Steve Carell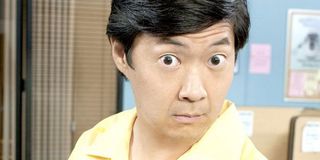 Ken Jeong has stolen scenes in Knocked Up, Role Models and The Hangover trilogy. Now he's set to headline a comedy of his own, produced by Steve Carell.
THR reports Ken Jeong is attached to front International Incident, a comedy penned by former The Daily Show With Jon Stewart scribe David Javerbaum. The Jeong vehicle's story will follow five United Nations delegates who set out on a roadtrip--presumably across America--to rediscover a lost love. It's unclear at this time if they all share the same lost love or if there are five separate people being sought out in this adventure. No other cast members have yet been revealed.
International Incident has been pulled together by Charlie Hartsock and Vance Degeneres, creative executives of Steve Carell's production company Carousel. Carell is currently in negotiations to produce International Incident, but there's no word as to whether he's also considering a role in the film. Carell has previously worked with David Javerbaum on The Daily Show With Jon Stewart and the 2001 Comedy Central special Steve Carell Salutes Steve Carell.
Doctor-turned-actor Ken Jeong has been a solid and recognizable supporting player in comedy for years now. But are audiences ready to see him as a leading man?
International Incident would mark his first lead in a studio film. Of course, The Hangover movies have exposed Jeong--sometimes literally--to a massive audience, who knows him as eccentric and dangerous gangster Leslie Chow. His role in these movies hit a whole new level in The Hangover: Part III, where the whole plot revolved around this wily and wild criminal. However, it's worth noting that The Hangover: Part III was considered a box office disappointment, showing a significant dip at the box office from its previous films, from $277 million to $254 million to $112 million.
Jeong shows some Leslie Chow deleted scenes in the featurette below:
The smart move by Summit is that International Incident doesn't seem to be relying solely on Jeong's appeal. With a ensemble of five, Carousel can bring in some of Steve Carell's funny friends--if not Carell himself--to help bolster the comedy's promise and appeal. There is no word on when International Incident might roll into production.
This poll is no longer available.
Your Daily Blend of Entertainment News
Staff writer at CinemaBlend.