Ken Watanabe Making Directorial Debut With World War II Film?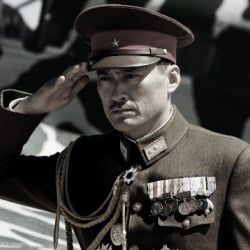 Ken Watanabe's most famous roles, in the United States at least, have involved the military-- Katsumoto, the samurai leader in The Last Samurai, and General Kuribayashi in Letters from Iwo Jima. Apparently all that fighting didn't just happen by coincidence; Watanabe appears to have a genuine interest in military history that's leading him to make his directorial debut with 442nd, a drama about a World War II American army unit made of up Japanese-Americans.
According to Pajiba, which is reporting the story as a rumor but a pretty solid one, the 442nd unit was sent on "virtual suicide missions" against the Nazis in Europe, earning them enough medals to become the most decorated unit in American military history. The story is yet another one of those fascinating and under-told chapters in the massive history of World War II, and an obvious one for Watanabe, a Japanese actor who has done substantial work in the United States, to tell.
How will he be as a director? Who knows! I'm always willing to give the benefit of the doubt, though, to actors with a lot of experience working with talented directors, since you have to figure out they picked up some tips on the job. Given that Watanabe is starring in Inception this summer, you have to at least acknowledge that he's been working with the best.
Your Daily Blend of Entertainment News
Staff Writer at CinemaBlend