Kevin Feige Admits Marvel May Recast Some Superheroes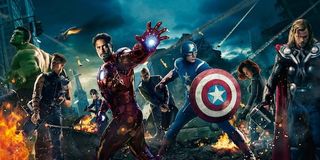 When Phase 2 of the Marvel Cinematic Universe wraps up later this summer with the release of Ant-Man, they'll have 13 movies under their belt. That's a lot of films with a lot of actors. Known for contracts that extend over a number of movies, many of the old guard's contracts are wrapping up, and Marvel President Kevin Feige admits that, while he doesn't expect to face this any time soon, they are willing to recast superheroes if necessary.
Talking to The Hollywood Reporter, Feige notes that they have all of the key players locked in at least as far as Marvel has movies planned out. Right now that extends out to 2019 and, after Ant-Man, includes ten movies (Captain America: Civil War, Doctor Strange, Guardians of the Galaxy 2, Spider-Man, Thor: Ragnarok, Avengers: Infinity War—Part 1, Black Panther, Captain Marvel, Infinity War—Part 2, and Inhumans). But as they continually look to the future, Feige does say:
From this statement, it also sounds like, while they may be willing to replace actors, it's possible we could be seeing the last of some characters coming up. Characters are constantly dying in comics, but as far as the MCU goes, we haven't really seen the death of any major characters.
There have been lots of rumors about Captain America possibly kicking the bucket, especially as Chris Evans' contract draws to a close (though he has talked about being willing to re-up, much like Robert Downey Jr. has already done, and come back for more). Steve Rodgers isn't he only person who has ever been Captain America. There have been tons in the comics, and the MCU already includes two individuals who have donned the red, white, and blue outfit, Bucky Barnes (Sebastian Stan), better known as the Winter Soldier, and Sam Wilson (Anthony Mackie), who plays Falcon. This is one way to "recast" without the audience having to pretend it didn't happen.
It's also possible that we could start seeing heroes ride off into the sunset. They don't always have to die, they can retire. Clint Barton/Hawkeye (Jeremy Renner) basically threw in the towel at the end of Age of Ultron, though we know he's back in Civil War, as did Tony Stark/Iron Man. You can also envision a scenario where, as the new crop of superheroes take center stage, the first generation could work out a deal where they show up in smaller, supporting roles, giving them more time to pursue other career options.
We'll have to wait until we come to those crossroads to know for sure who will be back, who will leave, who will have their alter ego supplanted by another character, and if maybe one day we see a guy who looks kind of like Thor, who people call Thor, but who isn't Chris Hemsworth.
Your Daily Blend of Entertainment News
Your Daily Blend of Entertainment News
Thank you for signing up to CinemaBlend. You will receive a verification email shortly.
There was a problem. Please refresh the page and try again.