Key & Peele's Red-Band Keanu Trailer Is Hilarious, Violent And NSFW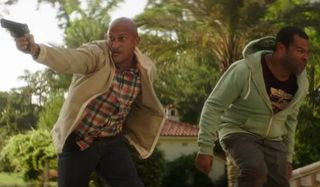 Look away Keanu Reeves, because it's pretty clear that Key & Peele have taken aim at your neo-noir action thriller John Wick from 2014 with their cinematic debut, even naming the titular pet after the actor. Thankfully, despite being a bizarre homage, Keanu looks like it's going to stand on its own two feet rather impressively, because its first trailer is downright hilarious. Quick little warning, it also features some words that a few of you might find offensive. Like, a lot of them:
Anyone who has caught just one sketch from Key & Peele's fabulous television series will know that the duo have been bringing the funny for quite some time now. Their transition to the big-screen, which coincides with them ending Key & Peele after five seasons in September, starts here, and the above suggests that they haven't missed a beat.
Basically, Keanu sees Jordan Peele struggling to get over the demise of a relationship. But all of that changes when he meets Keanu, a stray cat that serendipitously ends up at his door. Even that relationship is doomed to failure though, because Keanu is soon stolen, and, with Keegan-Michael Key in tow, the duo soon set out to find the missing kitty.
That's where the problems soon start, because they are then thrown into the seedy underbelly in their pursuit of Keanu, and they come into contact with Will Forte's gangster, as well as Method Man's much more impressive gangster, which immediately leads to comedic hijinks.
The trailer for Keanu makes sure to place Keegan-Michael Key and Jordan Peele front and center, with the BFFs completely lost at sea in this criminal environment as they go on the hunt for their kitty cat, Keanu. Plus, the feline actor cast to play Keanu looks as though he more than earns his treats, because not since the trailer for Inside Llewyn Davis have I been instantly smitten with a cat.
Director Peter Atencio, who previously worked on the Key & Peele television program, took to Twitter soon after the trailer had uploaded to show how infatuated he still is with the cat. In fact, according to the latest poster, the cat has clearly replaced Key & Peele as the main selling point of Keanu. Sorry, guys.
Keanu will finally hit cinemas on April 29.
Your Daily Blend of Entertainment News