Key And Peele Is Ending, Get The Details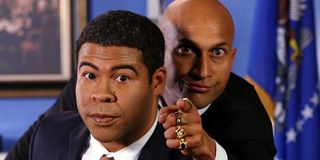 The list of beloved TV shows that have left us far too soon is practically endless. Networks wind up cancelling most of these because of a lack of ratings, excessive budgets, or overall shortsightedness. Very few have the opportunity to go out on top, either in terms of popularity or quality, but there is a new one joining those ranks. Comedy Central's Key and Peele will end after this season.
After starting in 2012, the sketch comedy series Key and Peele, the brainchild of Keegan-Michael Key and Jordan Peele, kicked off its fifth season earlier this month. Talking to The Wrap, star and co-creator Key said that this season will also be the last. He said:
While this certainly sucks for fans of the show, one of the most consistently funny sketch comedy shows on TV, both Key and Peele have been getting increasingly busy outside of its confines. They've both been popping up with greater frequency in movies and TV, and choosing to exit now lets them go out on their own terms. And they do so with an assortment of critical recognition. They won a Peabody Award, and have been nominated for a number of Emmys, including a series best seven this year.
All of the remaining episodes of Key and Peele are reportedly finished and in the can. They will continue to air on Comedy Central throughout the summer and ultimately wrap up this September. It will be sad to see the show go, but the duo, who worked together for six seasons on MadTV, aren't done as partners.
As Key said, they'll continue to team up from time to time, and we'll see some of these before too awful long. They have a caper comedy called Keanu in the works where they play best friends who get in over their heads when they infiltrate the gang of a vicious drug kingpin, played by Method Man, in order to retrieve a stolen kitty cat. In addition to that, they have also been working on a reboot of Police Academy for quite some time, and Key even said they even have another series that they might do for Comedy Central. There has also been talk of their Substitute Teacher sketch getting the feature film treatment.
So, don't worry. Key and Peele might be done in a few months, but Key and Peele aren't going anywhere.
Your Daily Blend of Entertainment News
Thank you for signing up to CinemaBlend. You will receive a verification email shortly.
There was a problem. Please refresh the page and try again.