Khan Noonian Singh Is Dead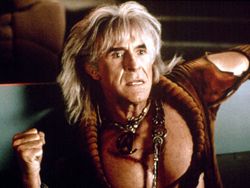 One of the most iconic men in the geek world has passed today. Ricardo Montalbán, known to most as Captain Kirk's greatest nemesis Khan Noonian Singh, has died at age 88.
Of course Montalbán was not just the Star Trek movies' greatest enemy, he began his Hollywood career back in the 1940s often portraying asian characters. He later moved on to musicals and theatre work before finding the two cult roles that he would be best remembered for: the mysterious white-suited Mr Roarke in TV's Fantasy Island and the aforementioned and allegedly plastic pectoraled antagonist in the best of the original Star Trek franchise in 1982. While other enemies in the other installments slip in to generic anonymity (the one with fake god, the one with the whale, the one with Doc Brown), Khan still stands as the one bad guy who made a lasting impression, bringing his hispanic charm and gravitas to the role of a vicious rogue supersoldier.
According to The Washington Post, no cause of death has been given. Montalban had spent much of the last 15 years confined to a wheelchair as the result of a back injury sustained in the 50s.
In tribute to the loss of a great man and the iconic character he brought so vivdly to life, here are some of Khan's finest moments.
And who could forget...
Your Daily Blend of Entertainment News
Thank you for signing up to CinemaBlend. You will receive a verification email shortly.
There was a problem. Please refresh the page and try again.