Kick-Ass Creator Mark Millar's Next Project? A Kid's Movie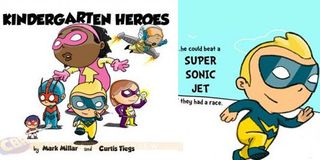 Comic book writer Mark Millar is best known for writing incredibly violent graphic novels for adult audiences. Several of these have been turned into flashy, ultra-violent movies, like Wanted, Kick-Ass and Kick-Ass 2. The last of these was so outrageous in its assaults it had star Jim Carrey speaking out against it ahead of its opening. So, what is this comic creator turned Fox comic consultant have up his sleeve next? A kids movie, obviously.
Deadline reports that after impressing 20th Century Fox with a convincing pitch, up-and-coming screenwriter Carter Blanchard has been hired to translate Millar's upcoming comic for kids, Kindergarten Heroes, into a family friendly feature script. As you can probably infer from its title and the sample art above, the book, which has been described as a cross between a traditional comic and a children's picture book, follows the adventures of a pack of super-powered kindergarteners. According to Comic Book Resources, who spoke with Millar about the Kindergarten Heroes back in early 2012, the kindergarten at its center is where all the superheroes drop off their genetically gifted toddlers. Ever the salesman, Millar explained,
Despite the Pixar comparison Millar made, the adaptation of Kindergarten Heroes will be live-action, according to Millar's blog. There he also makes mention of Fox's hopes to build a franchise here, which is pretty much the obvious aspiration for every and any superhero movie of late. While the project is based on a Mark Millar property, there is no mention made of what level of involvement the polarizing figure will have in the film's production. Which may be for the best as it's hard to gage how helpful Millar will ever be in promoting a movie.
After the Carrey anti-violence kerfuffle cooled down, Millar won new headlines prior to Kick-Ass 2's debut over controversial comments regarding the use of rape in his books. Our comment boards blew up with people on either side of the issue, but realistically Hollywood was only eying the box office returns of the movie opening later that week. And to be frank, Kick-Ass 2 got its ass kicked, coming in fourth opening weekend, falling behind two previously opened pics (Elysium and We're the Millers), as well as the newly opened Lee Daniels' The Butler. The film's current domestic tally is unimpressive at $28 million, since that's only the reported budget of the film before the costly demands of print and advertising, of which Kick-Ass 2 did plenty. While this failure clearly hasn't scared Fox away from Millar's ideas, it remains to be seen how they'll choose to employ him when it actually comes time to sell this kids movie.
Staff writer at CinemaBlend.
Your Daily Blend of Entertainment News
Thank you for signing up to CinemaBlend. You will receive a verification email shortly.
There was a problem. Please refresh the page and try again.