Will Kingsman 2 Include The U.S. This Time Around? Here's What Mark Strong Told Us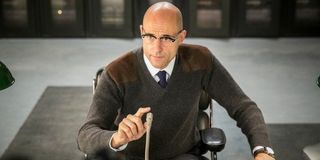 After the surprise box office success of 2015's Kingsman: The Secret Service , it looked like a sequel was always going to be pursued. However, the follow-up would only work if they got the entire cast and crew back, and with Taron Egerton, writer and director Matthew Vaughn, and Mark Strong all confirmed, excitement is already brewing for Kingsman 2. In fact, Strong has now admitted that Kingsman 2 will be partially filmed in the United States, in order to expand the scope and differentiate it from the original.
Mark Strong made this admission when I chatted to him over the phone on Friday, to discuss his work on the riotous Sacha Baron Cohen comedy The Brothers Grimsby. During our chat I asked him for an update on Kingsman 2, which is when he provided a starting date and the followingtease about where the action spy comedy would be set:
While having that information is well and good, I knew that Mark Strong could do better than that. So I pressed him for a little more by asking for an update on his character Merlin, one of the senior Kingsman who not only oversaw Taron Egerton's Eggsy through his rigorous selection process, but also assisted him during his the final showdown with Samuel L. Jackson's Valentine. And while Mark Strong refused to reveal if either Colin Firth would be returning or if Julianne Moore will be appearing as the villain, he admitted that Merlin will be a key cog in Kingsman 2, stating the following:
Fingers crossed that Julianne Moore does ultimately appear in Kingsman 2, because she would be the perfect addition to an all round esteemed cast. While the thought of her playing a villain in such an over-the-top comic-book film is truly tantalizing, and simply needs to happen otherwise the world's not fair.
Kingsman: The Secret Service went on to gross $414 million upon its February release last year, making it the most commercially successful film of Matthew Vaughn's career. Because of this triumph, Kingsman 2 has been rewarded with a summer release date of June 16, 2017.
But if you're looking for a Mark Strong fix you only have a week to release until The Brothers Grimsby is released in the USA. You can click here to read my review for the comedy, while check back next week to read what Mark Strong had to say about shooting the film and working with Sacha Baron Cohen.
Your Daily Blend of Entertainment News