Krang Will Be Voiced By An SNL Comedian In Teenage Mutant Ninja Turtles 2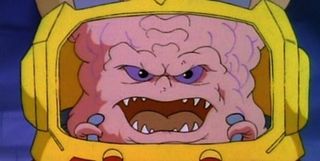 Earlier today when an extended TV spot for Teenage Mutant Ninja Turtles: Out of the Shadows dropped we got our first really good look at the villain Krang, a fan favorite nemesis of the titular amphibian martial artists. He'll make his big screen debut later this year, and when he does, we just learned who will provide the voice, and it's not who you might expect. Comedian and Saturday Night Live alum Fred Armisen will handle the vocal duties for the antagonist from Dimension X.
This news was just announced at Wonder Con, which is going on right now at the Los Angeles Convention Center. While it may seem late in the game to cast a major player in Teenage Mutant Ninja Turtles: Out of the Shadows, since this is just a voice role—the CGI or motion capture has probably largely been accomplished—Fred Armisen should have plenty of time to record the dialogue. Voice actors were similarly brought on late in the game for Teenage Mutant Ninja Turtles in 2014.
While it may seem kind of strange initially for Fred Armisen to play a character who is a warlord from another dimension, Krang's voice have never been all that menacing. Sure, he uses a large, powerful, if a but unwieldy, mechanical body to move around—appearance wise, he's always resembled something along the lines of a brain in a jar—but his voice, provided by a number of actors over the years, has always been a bit shrill and strange. We're not talking a deep, booming, menacing set of vocal chords here, and the Portlandia star should be able to give the character a memorable voice in Teenage Mutant Ninja Turtles: Out of the Shadows.
Krang first appeared on the animated Teenage Mutant Ninja Turtles in 1987, in the episode "Enter the Shredder." He was banished from Dimension X and showed up on Earth, and over the course of his time on TV and in the show, he's pursued his modest goal of trying to rule over every dimension. I guess if you might as well go big if you're going to go at all.
While we're not sure how close Teenage Mutant Ninja Turtles: Out of the Shadows will stick to this origin story—they haven't been shy about altering things—we're curious to see what they do in this situation. With the shots of the sky opening up and what appear to be visitors from another dimension popping through (is that Krang's Technodrome? That would be awesome), however, it does look like Krang and some others will originate in an alternate dimension.
Teenage Mutant Ninja Turtles: Out of the Shadows hits theaters this summer on June 3.
Your Daily Blend of Entertainment News